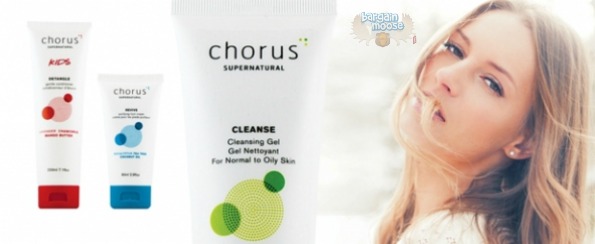 Here's another great freebie - consider it a Canada day present! Right now, you can grab a free sample packincluding ten different samples of various Chorus Supernatural spa and wellness products. What are you waiting for, go sign up!
This new freebie has some pluses that I like to see when I am considering new products. Check out this new line of wellness products from Chorus Supernatural. Simply fill in your basic contact information and your samples will arrive shortly. The word around the internet is that the samples should arrive within 10 days, though I have not seen anything directly on their website to reflect that information. After I filled out the contact information, all I received was a screen that said thank you. So far I have not received any sort of confirmation e-mail. I have seen reports of users who have already received their samples including on the Chorus Supernatural Facebook page in the reviews.
When you order, your sample pack will include:
Moisturizer
Mask
Cleanser
Eye Cream
Facial Scrub
Body Lotion
Foot Cream
Hand Cream
Muscle Balm
Joint Balm
This sounds like a fantastic sampling of products! I checked out this Canadian company a little more on their website. I always like to know whom I am giving my information too, and I was curious about their products. This company out of British Columbia is dedicated to bringing you products that are 100% natural without any synthetic fillers. They have a range of products, including items especially for ladies, men, babies and kids. They also mention that some of their ingredients are sourced locally in British Columbia, which makes these products even better. We actually Facebooked this company to make sure the above offer was theirs, as it's hosted on a different domain. They wrote back and confirmed it, so we're good to go!
I had not heard of this company before seeing this sample. I am always interested in finding more ways to have more natural solutions to the various lotions, soaps and cosmetics I use both for myself and my daughter. I am also always interested in supporting smaller Canadian companies, so I am really excited to try their products. The products are available in 58 stores including many different locations of The Medicine Shoppe. You can also order any products you love directly through the Chorus Supernatural website. I am most interested in trying the foot cream, as I have been looking for something new. I have tried several different products lately and nothing seems to be making my feet soft enough to my liking.
Bargainmoosers, what sample are you excited about trying?
(Expiry: Unknown)