This is a really good freebie and coupon offer from Nestle Carnation. If you fill in the form on their website, they'll send you out a free sample of their Nestlé Carnation Breakfast Anytime.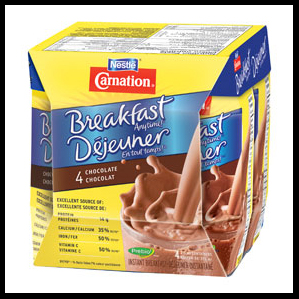 Additionally, they'll give you a free coupon which you can use to purchase a full-size 6 pack of the same product, at your local supermarket, Loblaws, Superstore etc.
If your household has had an offer for Nestle Carnation before, you might not be eligible to sign up to this freebie as well. Just fill in the form with a new email address and phone number, and it should go through ok.
It's great to get a free product sample like this – I've never tried this, so it will be interesting to taste it. Then, if I like it, I can use the free coupons to nab more. And I just love getting things for free!!
- Anna