I bought a notebook from NCIX.com in the summer and they blew me away with how fast they shipped (30 hrs in my case). Unlike my poor experiences with Dell, they shipped exactly what I ordered, and I actually received my own order instead of some other shopper's!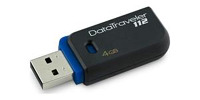 My boys brought home the latest list of much needed school supplies last week - the days of paper and pencil are long gone...sigh. But NCIX.com did help keep me looking  cool and hip! They have the Kingston Data Traveler DT112 Capless 4GB USB 2.0 flash drive in black/blue for $9.99 - whooot!
Limited quantities are still available, and you're limited to 20 per customer. They ship within 1-2 days. The discounted price (normally they're $14.03) will be applied only after you complete your order, and will be processed in the order in which they are received. No rainchecks/price matches at $9.99. Express, next-day shipping cost me only $10.