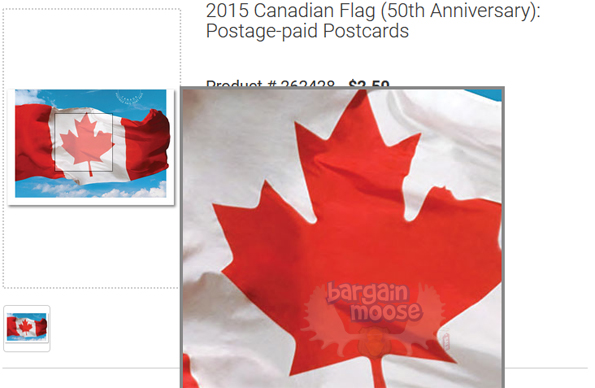 Need a postcard or stamps? Then hurry up and order them from CanadaPost.com because for a limited time, you can get a free Pierre Belvédère red notebook, valued at $16.95, with purchase of any anniversary product, such as the 2015 Canadian flag postage-paid postcards for $2.50. Shipping is free as well.
Once you add the postcards for $2.50 to your cart, the Pierre Belvédère notebook will automatically appear in your cart. To view it, simply click "view" on the side of the page, above the big blue checkout button (but only when you have added the stamps to your cart). Unfortunately, it won't work to see what exactly the notebook consists of but I did find a nearly identical one at Amazon.com. That one is currently priced at $16.25 and includes daily journal, address and expense pages for a total of 154 pages. My assumption would be that the one at Canada Post includes the same amount of pages but you never know!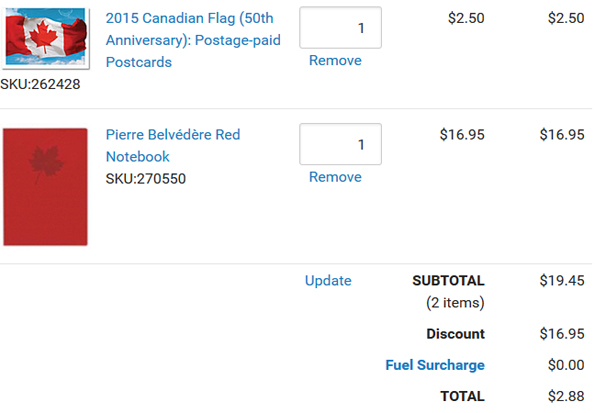 Now this is where it gets tricky (or should I say, glitchy): I mentioned that the notebook will be automatically added to your cart but once you go to actually check out, Canada Post's system will indicate that one of the items in your cart is unavailable. This is supposedly in reference to the notebook but many Moosers have reported that they were still able to both complete the transaction and to see the notebook as being included on their invoice.
So basically, complete this order at your own risk! If you need postcards or stamps anyways, then I think it's most certainly worth trying to get the notebook, especially since Canada Post's system does seem to be pushing the orders through. No word on how much longer this will last though, so if I were you, I would complete the order quickly. If you happen to not receive the notebook, despite your invoice including it, then you could always try to raise the issue with Canada Post directly in the hopes of either getting the notebook later anyways or maybe trying to get a discount. ;)