When you go camping, there will be camping gear and supplies that you need that you may not have considered. Here are unique products geared for every family who enjoys camping. Some of these items are such innovative products, you may not have even heard of them yet!
Cabela's is offering our Bargainmoose readers an exclusive offer of Free Shipping on Camping Gear over $49 at Cabela's Canada. This offer is valid from June 9 to July 6 with Promo Code: CAMPOUT during checkout.
Cooking
1.) Grill Pro Stainless Steel Hot Dog Roller - It's a nuisance when you're BBQ'ing hot dogs on a grill and they fall between the slats on the grill or cook unevenly. You can cook up to 5 hot dogs at a time using the wood handle to push and pull the hotdogs to an even, golden perfection. The handle is detachable, for easier storage. The Grill Pro stainless still hot dog roller is on sale for $14.99, down from $19.99.
2.) Bone Collector Can Cooker - This is similar to a slow cooker but is used over the camp fire instead! It takes less time to cook your food than a traditional slow cooker. All you have to do is throw in some ingredients for a hearty stew and because it locks in heat and steam, the food will be more tender than any other methods of cooking over a camp fire. This is a family-friendly (safe) method of cooking with your kids nearby. Sometimes BBQ's and cooking stoves can get in the way, but this cooker will be immersed in a fire which they won't be going near anyway. The Bone Collector Can Cooker is on sale for $30 off. The sale price is $100 and with the smaller version of it selling for $90, this is a great deal.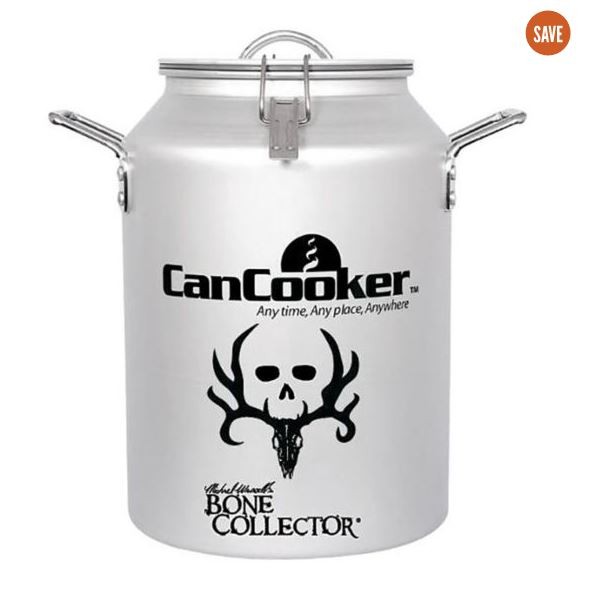 3.) Campfire Open Fire Popcorn Popper Kit - This popcorn popper is necessary for some of the best popcorn you have ever popped. You will use the old fashioned 'shake it over the flame' manner of popping the popcorn, but the extendable handle will allow you to keep a safe distance from the flames. I've found this type of popper to work incredibly well as it has some steam vents, (prevents popcorn from getting too soggy) and pops the popcorn very quickly due to the lid that securely snaps shut. This kit retails for $39.99 and includes a starter popcorn pack. It's a decent price even though it's not on sale.
Safety
4.) Cabela's Alaskan Guide XR Headlamp - This may look like something out of one of the Ghostbusters movies, but it is useful to use when you are out camping. It's lightweight, water-resistant and has 3 white LEDS that produce 35 lumens. It also has one red LED, with up to 4 lumens. Red light doesn't travel as far as white light, so is useful for just walking around the camp at night to see clearly around you. You will also not be blinding everyone with the white light. The Guide XR headlamp is long-lasting, lasting up to 145 hours on the white LEDS and up to 180 on the red LED lights. It uses 3 AAA batteries which are included. The weight is 2.75 oz., not including the batteries. The XR turns on in the red LED mode, which is easier on the eyes, then to enable the 3 white LEDS you simply hold down the button for 1.5 seconds. This headlamp is on sale for $29.99, after saving $15!
5.) Coghlan's Magnesium Fire Starter will start hundreds of fires and is safe to carry on you at all times. If you've ever watched CBS Survivor on TV and wondered why the contestants ever go on the show to ""Outwit, Outlast and Outplay" without first learning how to build a fire, you are not alone. It's selling for $9.79. This product has fantastic reviews and the reviewers provide some really helpful tips. You will need a sharp knife to scrape off enough of the magnesium, but almost every camper has a good knife, but if you don't, this brings us on to our next 'must-have' camping tool.
6.) Leatherman Orange Wave Multitool - Leatherman is popular for their high quality folding multi-tool products and this one is on sale, selling for $120 down from $140. This Multi-tool is comprised of stainless steel and contains needle-nose pliers with wire cutter, a diamond file, scissors, ruler, opener with wire stripper, clip-point knife, serrated knife, large and small bit drivers, two double-end bits, large screwdriver and a lanyard attachment. The sheath is also included. It's 4" long and weighs 8.5 oz. There is a lifetime warranty on this product as well!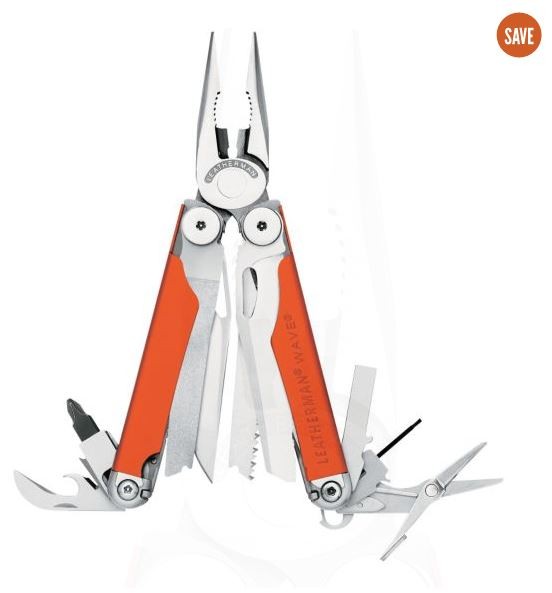 Kids
7.)Ciao! Baby Portable High Chair - This high chair makes meal times so much easier! It weighs only 8 lbs, so you can hoist it over one hip while you balance your baby on the other. It folds up neatly into a bag, which is included. Anyone who has ever gone camping with a baby knows that this is the very item that was sorely missing on their last camping trip. You won't only use this for camping; the Ciao! Baby high chair will be perfect for taking along with you when you visit friends and family. There are 3 different patterns available but only the black one with the camo pattern high chair tray as shown here, is $99.99. The other two patterns (mossy oak, and mossy oak pink) are $109.99.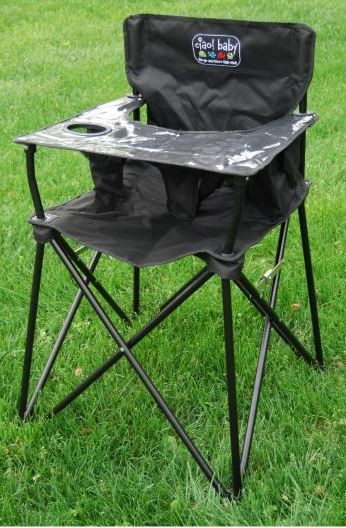 Insects
8.) ThermaCELL Mosquito Repellent Appliances - This mosquito repellant will provide a 15 x 15 ft Bug-Free-Zone! This is accomplished without toxic chemicals such as DEET. The reason it works is that it contains an exact chemical copy of an odourless type of insecticide found naturally in a chrysanthemum flower. The mosquitoes don't like this, so they stay clear of you. You don't use this device as a spray, you can wear it clipped on your body, or set it out in a specific area to keep the insects away for hours. The reviewers are very happy with their purchase. Each appliance, selling for $39.99 includes one butane cartridge and three mats - this means it will give you 12 hours of protection. You will want to see the link for the ThermaCELL refill pack replacement carts, for sure! They are on sale for $7.99 for 12 hours, or $33 for a 48 hour refill. In this case, it is less expensive to purchase 4 of the $7.99 carts, for $32 total.I note there is a shipping restriction warning displayed, stating "this item is a dangerous good and must be shipped via ground transportation only." An additional shipping charge may apply, so you will want to watch for that during checkout to see.
Emergency
9.) Coghlan's Portable Power Pack - Portable battery chargers are great when camping - until they need to be plugged in and charged again. This water-resistant portable power pack can be recharged through USB power, solar power or by dynamo cranking (by hand.) It has 6000 mAh of power so you can quickly charge your electronic devices. It stores the energy into the high-grade lithium polymer cells for later use! There is also a handy bright LED light on it. This power pack is selling for $64.99, well worth it for a high quality product that can provide energy when there is no ac power around.

10.) LifeStraw Personal Water Filter - This is something that everyone should have in their homes and of course, take along with them when camping. If you are ever in a situation where safe drinking water is unavailable, as long as you can find water from streams, puddles and lakes, then you are set! This will remove practically all waterborne bacteria and protozoan parasites and surpasses EPA guidelines for E. coli, giardia, cryptosporidium oocysts and many others. It will filter up to 264 gallons of water and has no chemicals, batteries or moving parts. A portion of all sales goes to support clean-water projects worldwide. The low price on these is amazing and as a result of the low cost it has been very helpful (via humanitarian aid) to communities around the world that don't have safe drinking water. The price on the LifeStraw Personal Water Filter is only $29.99, which is a steal for a product of potentially life-saving attributes with such stellar performance!
This video is great, it explains this amazing and helpful product very well, and is well worth the watch:
Shipping: Cabela's offers Free Shipping on Camping Gear over $49 as an exclusive offer for our Bargainmoose readers! This special offer is valid from June 9 to July 6 with Promo Code: CAMPOUT during checkout.
(Deal expiry: July 6, 2016)