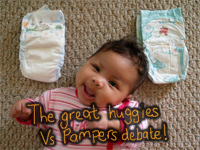 Here's an easy freebie for you moms and dads who have just procreated! If you'd like a free sample of Huggies Pure & Natural diapers, just fill in the form on their web page. You will receive your freebie within 4 to 6 weeks.
Free baby stuff is just excellent! If you're interested, there are a hell of a lot of "baby freebies" out there. I guess these companies offer these free samples to new moms in the hope that they will get mentally stuck on that brand, and buy it for ever and ever and ever. Not being funny, but that does happen. One of my sisters swears by Pampers, and another swears by Huggies (for their babies of course, my sisters don't wear diapers).
Thanks to Black Glenn!