UPDATE - Expired!
Do you have an SPC yet? Or is it perhaps time to renew your existingStudent Price Card? Here's a great deal – now is brilliant time to order a new 2008/09 SPC card.
If you don't know what it is, the SPC is a discount card that costs you $10.50 to purchase. You don't have to be a student, anyone can purchase this item online. Once you have it, it entitles you 10-15%discount at loads of familiar stores, such as Aldo, Foot Locker, Burger King, Bluenotes, Yves Rocher, Zellers, and loads loads more!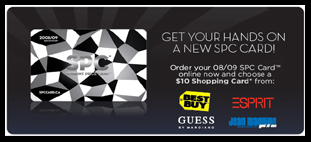 Here's the special offer:
"Buy an SPC Card online between September 10 & 14, 2008 and receive two $10 Shopping Cards from your choice of one of the following: Best Buy, Esprit, Guess or Jean Machine."
So if you order this discount card, you get some $10 gift cards as freebies too!! There are some terms and conditions, of which I suggest you have a quick read. For example, on the free Best Buy gift cards, the minimum spend is $50 (which isn't too bad anyway).
This is not the only perk of having the SPC card. They also come out with other great offers during the year… sometimes they have double discount days – I'll try and keep you informed if I hear news of this kind of thing.
- Anna