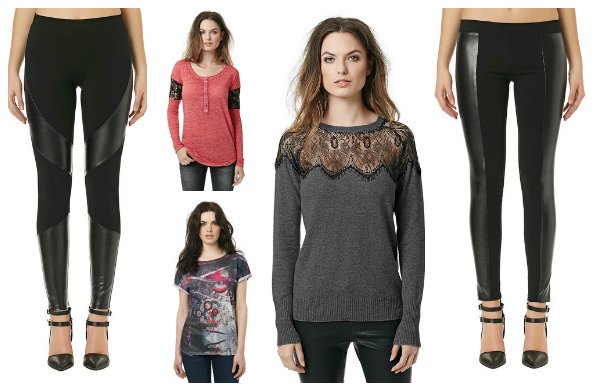 Buffalo David Button - aka Buffalo Jeans - is offering 50% off select women's clothing and free shipping on ALL orders. This is a sweet combination of deals you will want to peruse before the sale ends. The discount is taken off in your cart.
The clothing through the above link (right there!) is all 50% off when you add it to your cart. This selection of clothing includes some pretty sweet leggings, tops, and dresses.
First things first... awesome pants. The Faizah and the Fall are both awesome pairs of black legging-style pants that use black wet-look material and black matte finish material to create contrast without using a different colour. The Faizah has the outside panels of the legs in wet-look material whereas the Fall has a swirly pattern that I -frankly - prefer (and so does everyone else as it is nearly sold out). Each of these pants retails for $79, but they come down to $39.50 each after discount.
There are some items in the sale that are already on sale and then you get the extra discount at checkout. This Tight-Rope tee and this Meadow-Tee would be two of those items. Originally $39, they are now on sale for $29.99. Once you add one to your cart, it comes down to just $15.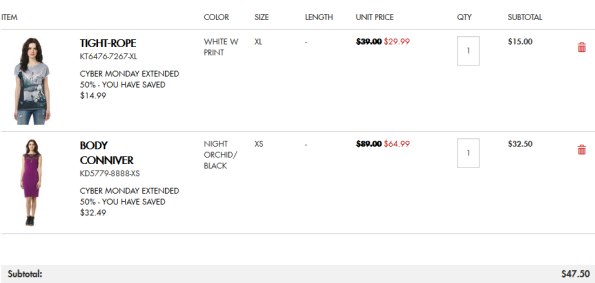 I really like what Buffalo is doing with lace cut outs. I think it is part of this inner-wear as outerwear trend but it can be done well... and then not so much. I think Buffalo incorporates this trend well. This Sholda Lacey Top has lace inserts at the shoulders that are both tasteful and trendy. Originally $69, pay just $34.50 at checkout.
This Belacey Sweater would actually be my pick of the litter. I love how the lace becomes the amazing decoration around the neck instead of having something knitted into the sweater. I usually hate sweaters, but I rather like this one. Originally $79, the sweater will be just $39.50 after additional discount at checkout.
While the selection of items that receive an extra 50% off is not exactly large - it does offer plenty of variety especially if you are looking to buy tops. Most things are just 'regular price' before the 50% off but there is a small selection of items up to 33% off before the 50% discount. Happy shopping!
(Expiry: unknown)