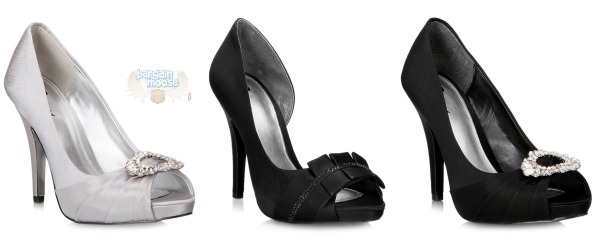 Browns Shoes has a vast clearance section with an extra 20% off select sale styles. On top of that, they are offering free shipping with no minimum for a limited time only. The Edriana and Elmira high-heel shoes are currently on sale from $148 down to $39.98. After the extra 20% off (in cart), each pair of shoes comes down to $31.98 with free shipping.
Elmira
The Elmira shoe is made of satin and features a sparkly ring of jewels on the toe. This accent offsets the satin beautifully. The heel measures 100 mm (roughly 4") so these shoes are best for women who know how to walk in high heels. I have not perfected walking in anything above 3" yet. You have a choice of black satin or silver satin. The Elmira satin pump is available in silver or black. The silver is nearly sold out, but there are still five or so sizes left in the black.
Edriana
Similar to the Elmira above, the Edriana is also a satin pump with a 100 mm heel. Rather than a ring of jewels embellishing the open-toe area, the Edriana has a ruffle design with a band of matching rhinestones. Out of the two, the Edriana is my favourite - I just have a think for ruffles. This black shoe is still available in three sizes: six, eight, and nine.
Both of these shoes are an excellent deal at approximately 78% off their original price. With free shipping, you also save an extra $5. While there is a standard offer of free shipping with a $198 minimum, it is hard to reach that minimum with deals like this.
While these pumps are the main deal, I also wanted to highlight a few other good deals right now. In the extra 20% off section, there are plenty of men's shoes, women's shoes, and handbags to choose from. For a simple handbag, you can purchase this Browns Leather Purse. Originally $120, the purse is currently on sale for $59.98. Once you add it to your cart, it comes down to $47.98. For a simple black leather purse, this is an excellent deal. There are also a few purses that are more expensive (and a few brand names) to choose from if your budget allows.
(Expiry: Unknown)