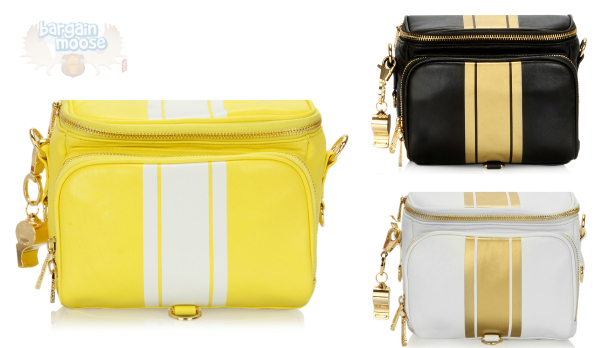 Are you in the market for a new handbag? Browns Canada is offering 70 to 72% off a selection of Cynthia Rowley handbags. With free shipping no minimum this weekend, it is a financially advantageous time to purchase a new purse.
There are three hand bags I want to mention from this sale as they are all discounted by 70% off or more from Cynthia Rowley.
Cynthia Rowley 5431109: Was $358 | Now $99.98
This large hand bag comes in black or white leather. The bag features a detachable shoulder strap and leather wrapped drop handles for any carrying position. There are little compartments for all your essentials and the signature Cynthia Rowley whistle dangling from the bag. As the bag comes in two neutral shades, it is the perfect accessory for any wardrobe.
Cynthia Rowley 5064201: Was $270 | Now $79.98
This is my least favourite bag of the three. However, if you are in to shiny metallic leather in a snake skin pattern, then this purse is for you. I think my mother might like this: she has this thing about owning accessories she can find in a crowd.
Cynthia Rowley 5534302: Was $215 | Now $59.98
Out of the three, this is my favourite purse. I adore the yellow version and dream of turning it into a little storage tote for my trunk. The yellow bag with white racing stripe nearly matches my car (though my car does not have a racing stripe). I would stick my first aid kit, manual, cleaning brush, and a few other things inside this darling little boxy purse. The purse also comes in black and in white. All three are pictured above and I think all three colour combinations are really cute.
This Cynthia Rowley 5131300 purse would be on the honourable mention list as it is only 60% off. Yet, if you like this style of purse, you may want to pick it up instead of one of the others. Originally $248, this bag is on sale for $99.98. This purse comes in Fuchsia, Black, or yellow.
Browns Canada usually has a free shipping minimum of $198. That is rather high, so few sale orders meet this requirement. Orders under that minimum usually pay a $5 shipping charge. Yet, this weekend, you will now receive shipping with any minimum free of charge.
(Expiry: Unknown)