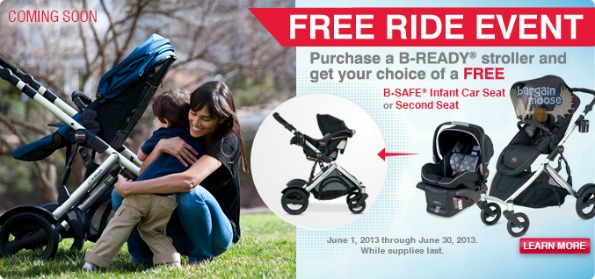 If you are in the market for a stroller and car seat, I'd wait just a little bit  longer if you can. Britax is going to be having their Free Ride Event, where if you purchase a Britax stroller, you'll get a free B-Safe infant car seat or a free second seat for the stroller. The event is happening for the month of June, starting on the 1st.
I've blogged before about Britax as a firm believer in the safety and durability of Britax car seats. Britax are known as the innovators when it comes to car seat safety, often being the first to employ new technologies onto their car seats, which improve child safety.
The Britax B-Ready stroller is a very adaptable stroller with more than 14 different configurations, including accommodating an infant and a second child. Your baby(s) could live in this thing. The MSRP is $529, which is standard for a stroller of this quality and in fact, eight years ago, my mother paid that much for my stroller (non-Britax but of a similar caliber).
The B-Safe infant car seat is has so many great features like side impact protection and a tangle-free five-point harness. It is highly adjustable in the straps and base for the safest positioning of baby as he/she grows. Comfort features include a comfort pillow and belly pad, large canopy for blocking the sun and ergonomic carry handle. This seat retails for $199, and you'll get it free with the stroller.
If you don't need an infant car seat, but in fact, need a second seat, you can get that free instead of the car seat. I have a stroller that allowed a second seat, which I needed not long after my first child was born, and it was incredibly convenient. I had seen mothers pushing giant double strollers that were bulky and heavy and I did not want that. With all the features of the first stroller seat, this seat is easily added to your stroller. Retails for $159.
This promotion is redeemable by participating retailers at point of purchase so you don't need to fill out any extra paperwork and wait for a rebate.
(Expiry: 30th June 2013)