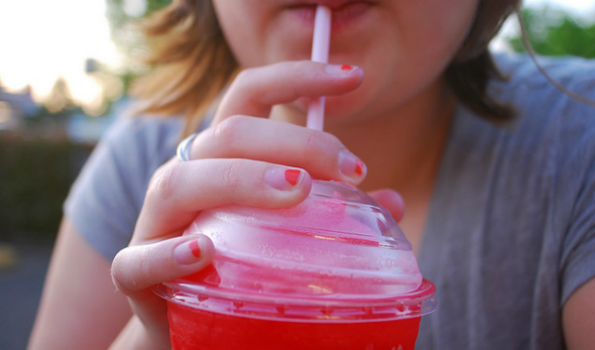 This event is becoming legendary. 7-Eleven Canada is offering Slurpees for only $1.49 on March 20th when you bring your own cup. You can fill almost any food safe container, which means this is enough Slurpee for an entire family.
7-Eleven has offered several different versions of this Slurpee event over the years. This year 7-Eleven is bringing back the very popular bring your own cup promotion. For only $1.49 you can fill any cup with a variety of delicious flavours in store between 11am and 7pm. This is the price of a small Slurpee, so you are getting a lot of frozen beverage for your money.
There are some rules on the container you put your Slurpee. Make sure your chosen container fits these rules so you can take your Slurpee home.
Your container can only be a maximum of 26 cm in diameter. They have a "magic measuring hole" in store and your container must fit inside.
Your container has to hold liquids and be leak proof. You cannot just hold your hands or hat under the Slurpee machine.
Only one container per person, per day is allowed. If your brain is not frozen from the first one, I suppose you could hit up multiple locations.
The container must be food safe. No gasoline cans or containers that previously held antifreeze.
The Huffington Post Canada featured some of the craziest containers from last year's Slurpee Day. You have to check out those photos!
Is your mouth beginning to water for Slurpee? Check out this list of some of the available flavours. Flavours may vary based on location.
Sour Cherry
Manitoba Mosquito Bite (Orange Crush)
Crush Lite Grape
Mountain Dew Voltage
Brisk Lemonade
Mug Rootbeer
Schweppes Ginger Ale
7up
Dr. Pepper Cherry
Head over to 7-Eleven for your Slurpee tomorrow. There will be a lot of brain freezes across Canada, and not because it is still winter. I think I will save some of mine in my freezer.
Bargainmoosers, what is your favourite Slurpee flavour or flavour combination?
(Expiry: 20th March 2014, Image Credit: Hannah)