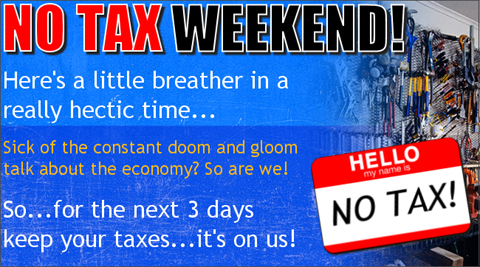 This weekend at Boss Tools Canada, they're having a "no tax" sale event! All the tools on their website are tax free.
If there was a special tool you needed in the home, now might be a good time for a browse of Boss Tools. Shipping is free on a $149 spend, so you might be tempted to get a few things and bulk up your order to that level.
For a while in my house, there wasn't a hammer to be found. Any time I was doing a bit of DIY or building some flat pack furniture, I had to hammer bits in with the heel of a shoe, or the nearest heavy blunt object. Since then, we bought a hammer, we were given a hammer, etc, and now we seem to be breeding hammers! There are about 5 in the garage now!
While browsing this site, I also noticed that they have some "tool talk articles." It's a series of DIY articles about your tools, from maintenance to purchasing tips.
(Ends 2nd August 2010)