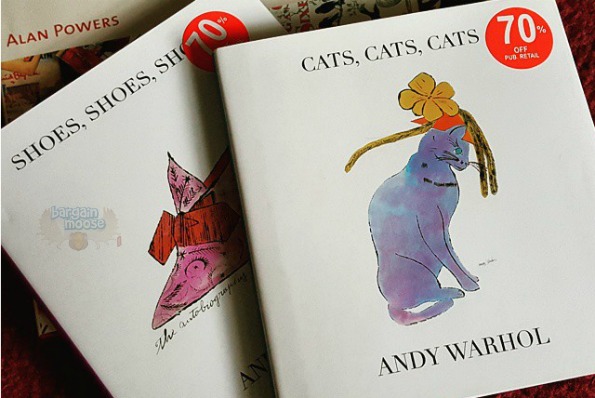 Book Outlet has a rare coupon code for $5 off your entire order with no minimum. The coupon value can only be used on books - not towards shipping costs.
Click here to shop @ Book Outlet Canada now
Coupon Code: BOOKFIVE
Discount: $5 off
Expiry: 28th June 2015
We have not seen a promotion like this from Book Outlet since January... so your six month wait has paid off. A good place to start is the 50.50 section, which I mentioned earlier this week. With graphic novels and comic books start at just $1.19, you can load up your cart for free and just pay shipping. If graphic novels and cartoons are not your style, explore the rest the Book Outlet collection. With books starting around $0.36 in the Scratch & Dent section and $0.49 in the Blowout section, you can really get a cartload for only the price of shipping.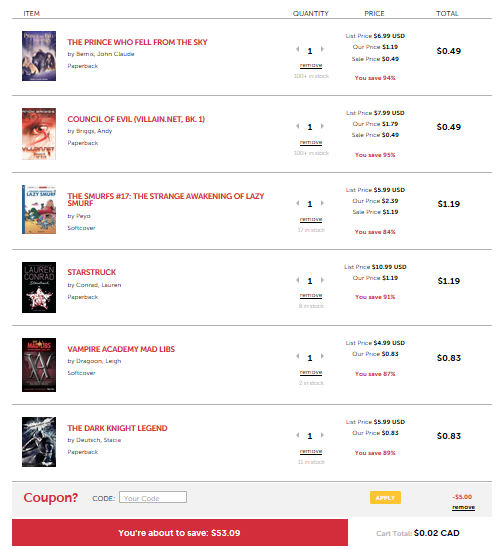 I added the above six books to my cart to test the coupon code. Most of these have plenty left in stock and are actually interesting titles. For comic book fans, The Dark Night Legend looks like a great book staring Batman. The Smurfs book just caters to my inner child and harkens back to the days I was addicted to that Smurfs app on my phone. Forever planting gardens and building new smurf houses. Lazy smurf was always entertaining.
My favourite book out of this selection must be The Prince Who Fell From The Sky. I like how the animals rule the world really and humans disappeared long ago. that is until one literally falls from the sky! This book sounds like a great read that has been influenced by some fantastic mythology. At $0.49, I think this book is within my budget.
If I was going to make one recommendation, I would tell you to pick up The Best of Foxtrot collection. Currently, this collection is on sale for $11.99 and comes down to $6.99 after coupon. Shipping will cost you $4.94.
Shipping is $3.99 plus $0.75 per book. My cart pretty much worked out to saving $53.09 off of the cover price for these six books. Then, I would need to pay $0.02 plus $9.69 for shipping. Shipping costs will be less if you buy fewer books, like say one book that costs $5, because there is an additional fee per book (which adds up).
For this and future Book Outlet coupon codes, visit our forum.