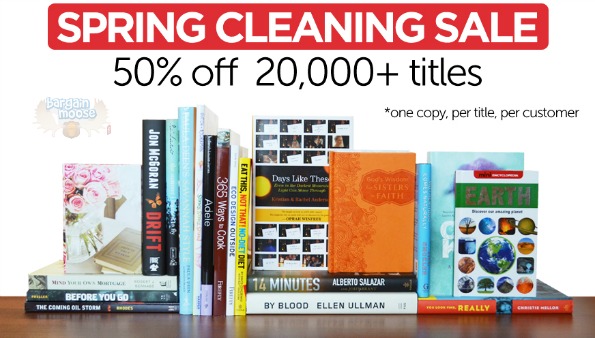 Book Outlet is having a large spring sale with an extra 50% off thousands of book titles... 20,000 to be approximately exact.
So, how is this sale different from all other sales, you may want to know? Well, that is a very good question. Each week Book Outlet offers a 50/50 section, which is an extra 50% off 50 books that they choose. However, instead of just 50 books this sale is giving you an extra 50% off 20,000 or so books. Sold yet? I am.
There are some hilarious titles in this sale with books discounted up to and over 90% off their original retail value. This 101 Uses for My Ex-Wife's Wedding Dress looks like a fun and perhaps theraputic read for any guy going through a divorce or anyone with a good sense of humour. Originally $14, it is now just $0.99.
Many people really admire Elizabeth Taylor, and not just for her fine figure. She was a role model to many women and continues to be so. The book The Accidental Feminist celebrates Elizabeth Taylor. Originally $15, it is now on sale for $1.49.
I am going to be scrounging through the sale looking for books by my favourite authors to read this summer. How about you?
There is a limit of one copy per title per customer. No buying ten copies of The Hobbit.
The cost of shipping is $3.99 and an additional $0.75 per item. Additionally, use one of our exclusive Book Outlet coupon codes to save another $5 to $20 on your entire order.
(Expiry: Unknown)