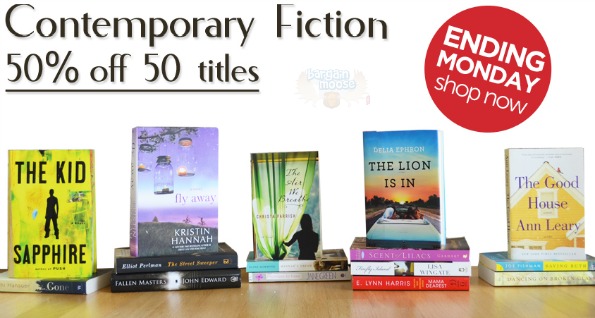 Book Outlet has switched up their 50/50 section again and this time there are some great books for Dad. Get 50% off 50 different Contemporary Fictions books for a limited time only.
I wasn't exactly sure what Contemporary Fiction meant, but I figured it out quite quickly with just a glance over the books offered. They are all fiction but they are a bit alternative. They deal with spirituality, emotions, and the afterlife.  Some of the books could make a good Father's Day gift.
My dad would like this Fallen Masters by: John Edwards that was $25.99 and is now reduced down to just $2.99.  I think he would also like to read this The Million Dollar Demise by: RM Johnson that was $15 and is now just $1.99.
They used to have these 50/50 sales on for a full two weeks at a time, but they have been switching it up lately.  Some of them have been a week, some two weeks and some just random amounts of time.  This one ends on Monday, so there is not a lot of time to take advantage of it.
As for the cost of shipping, it is $3.99 for the first items and then an additional $0.75 per item. Not bad actually, since the prices of the books are dirt cheap.
To save yourself even more money, you can use one of our exclusive Book Outlet coupons to save another $5 to $20 on your entire order. Between the 50% off and the additional exclusive coupon, you can stock up on a ton of books for your summer reading!
(Expiry: 26th May 2014)