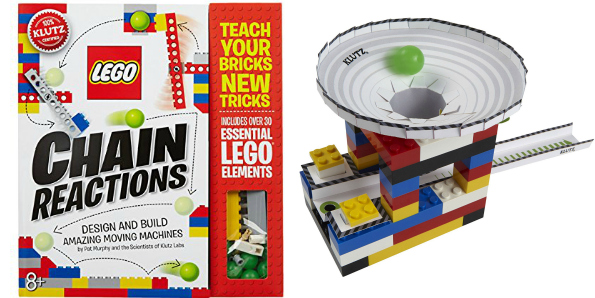 LEGO Chain Reactions is an awesome book that teaches children how to make eight simple machines that then can be combined to set off... a chain reaction! There are 20 LEGO pieces included along with instructions and paper ramps to pull off the chain reactions. Originally $25.96, this book is currently on sale for $17.64. After the coupon code CYBERWEEK - which gives an extra 10% off - the book comes down to only $15.87 with free shipping.
You must click through the first link so it unlocks the coupon code box on the checkout page. Then you can either A) scroll down to LEGO Chain Reactions or B) open up the other link, add the book to your cart, and then checkout through the first link. This seems a little convoluted but they have a specific link that triggers the coupon code box to show up so you can actually use the coupon.

You can see how beautifully that works above.
Children can use the included LEGO pieces with the book in conjunction with their own LEGO to build cool contraptions. Then, they can record their experiments in the book. Supplement your new LEGO creations with your own LEGO pieces to big bigger and better contraptions. I was thinking this would be a great book to give your child this Christmas as it is LEGO themed, includes LEGO, and will spark interest in physics and promote learning. This sounds like a winning combination to me.
I quickly price compared this book with the two big boys. Lego Chain Reactions currently costs $24.92 @ Amazon Canada and Chapters Indigo. Thus, Book Depository's price is $10 less than the big book giants here in Canada. I would order ASAP as this is being shipped in from the UK.
You can use this coupon on other books and stuff as well. As Mooser Sue pointed out, these Art & Colour Therapy Post Cards are now only $9.02 each and qualify for the extra 10% off with this coupon code. They make amazing Christmas gifts for anyone getting into adult colouring. You could also keep them for yourself and send them out once coloured.
OMG... you have to watch this video:
(Expiry: 4th December 2015 @ 5PM GMT)