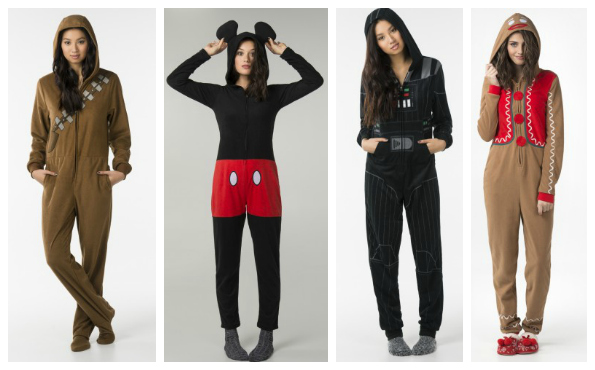 I am pretty stoked about this deal at Ardene today only. They have a special buy one get one for $1 offer on select onesies. I also found a couple Star War Onesies that are BOGO for $5. Both these deals are splendidly awesome and you will want to grab them today before this deal expires. Right now, Ardene is offering free express shipping on $30 or more. Because the onesies are over $30, you will receive free shipping on your order. Order today and your onesies will arrive in time for Christmas!
There are some super awesome onesies in this collection that you just HAVE to buy. This Magical unicorn onesie would be coming home with me if it was still in stock in my size. Originally $39.50, you can get TWO for $40.50. The unicorn has wings, a horn, and a fluffy tail! For my second onesie, I would totally get this Gingerbread Man fleece onesie that also retails for $39.50. Like - seriously - is there anything cuter than that in the entire world? 
I mentioned Star Wars and I will give you Star Wars! Get your furry beast on with thisChewbacca onesie for $36.50. Don't leave Darth out in the cold - stay warm in thisDarth Vader onesiefor the same price - buy you can get both Chewbacca and Darth Vader for just $37.50. I think both of these onesies are totally awesome and I think you could arrive at the theatre in one of these and no one would blink an eye - as long as you were going to see the new Star Wars movie.
You cannot combine the $1 and the $5 BOGO free offers - this is very important. I tried to combine Darth Vader and the Gingerbread Man and the discount wouldn't come off. Also, make sure you add the styles in pairs. I added the Gingerbread Man, then Darth, and then Chewwy and it wouldn't work. Once I removed the Gingerbread Man, the discount applied.
There are so many cute onesies in the BOGO for $1 offer. The Mickey Mouse onesie pairs beautifully with the Simba onesieas they are each $36.50 but you will get both for $37.50. Check out all of these amazing onesies and more. With free express shipping, your order should even arrive in time for Christmas.
(Expiry: 18th December 2015)