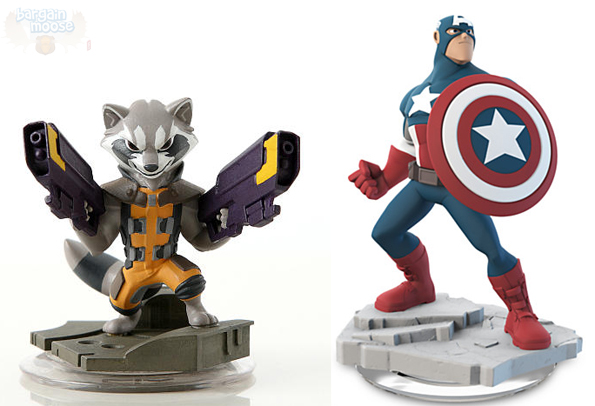 If you've got kids and they're interested in the Disney Infinity universe, check out this deal @ Toys R Us Canada. Right now, you can buy any of their single figurines and get the second for half price using the coupon code below.
Click here to use the Toys R Us coupon code online now
CouponCode: TRUANNINFINITY
Discount: BOGO 50% off Disney Infinity figurines
Expires: 23rd October 2014
The coupon code only applies to the single figurines and not to the starter packs which are more expensive. Some examples of the items in this range:
As you can see from the above examples, there's a wide range of characters to choose from, coming from a wide range of universes such as The Incredibles, Pirates of the Caribbean, Marvel, Toy Story and more. Rocket Racoon is cute!
I noticed that the Frozen characters are sold out – that's to be expected, it's such a popular movie!
If you're planning ahead for Christmas and want to pick up some of these characters for your kids, now is a great time to buy when they are on this special offer at Toys R Us.
What About Shipping?
Most of the individual figurines are priced at $13.99 each from Toys R Us. This means that buying two and using the above coupon code brings your cart to a total of $20.99. Sadly, that's just under their $25 minimum for free shipping! I'd recommend popping something else in to your cart, just over $4 or more. Find a filler item, and it means you will get free shipping to your home. Want some help finding filler items? Here are a few ideas:
If you grab some other small item to top up your shopping cart, feel free to let us know in the comments below.