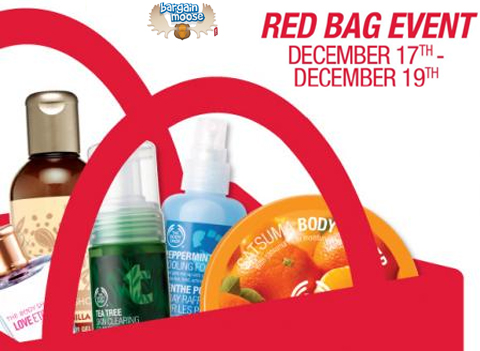 This weekend in-store at The Body Shop Canada, they're holding a "red bag event." You purchase a special red bag for $5, fill it up with goodies, and you get them all for half price.
There are some exclusions to the 50% discount of course, and you can find out more about them in-store. The basic exclusions are pre-made gifts, gift cards, Love Your Body membership cards and charity items.
If you purchased the Body Shop groupon deal back in November and haven't made use of it yet, this would be an ideal time to try it out. The T&Cs state that this offer can be combined with the Groupon deal.
I think it used to be a "red box event" but The Body Shop  have changed it to a bag now. If you need some nice little stocking stuffers, it could be handy!
My co-author Avigayil was in the Body Shop this afternoon and it was swamped!
(Ends 19th December 2010)