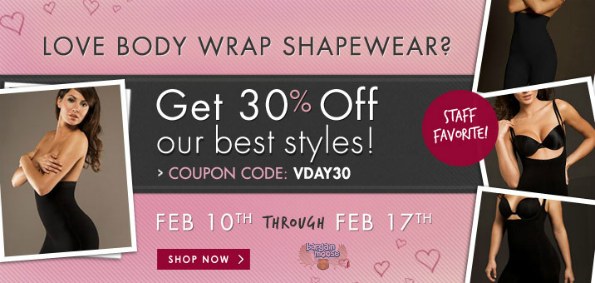 Body Wrap Canada is a very famous shape-wear company. I was very pleased to find a coupon code for 15% off your total order online. I also found one for 30% off a selection of favourites on their website. You will also receive free shipping on any purchase, no minimum.
For any order:
Discount: 15% Off
Coupon Code: FACEBOOK15
Expiry: 10th, May 2012
It is valid for a one-time use per person, and cannot be combined with other discounts or promotions.
For select favourites:
Discount: 30% Off
Coupon Code: VDAY30
Expiry: 17th, February 2012
There are 5 items in total that the above coupon works on.
I could certainly see picking up the Seamless High-Waist Slip with lace: originally $56 and after the Valentine's Day coupon it only costs $39.20. A good slip is on my list of 'must buy soon!'