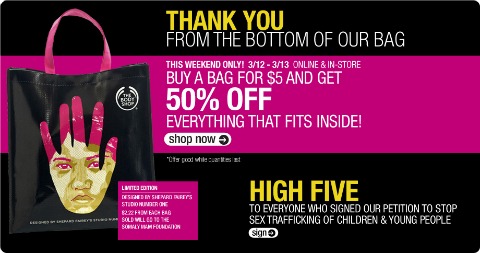 This weekend at the Body Shop, purchase a bag for $5 and everything that fits inside is 50% off! This sale is valid in store and online. When you buy the Shepard Fairy Stop Sex Trafficking Bag online, you'll get 50% off your order. $2.22 from every bag purchase will be given to Body Shop's campaign partners. Once supplies of this bag have are gone, it will be substituted with a paper bag.
There are some items that are not included in this offer: gift cards, all pre-made gifts, love your body card, and charity items. The offer can't be combined with any other offers, discounts or coupons, with the exception of the Love Your Body Discount Card.
Click here to buy your bag at the Body Shop for $5. Now, the easy part....fill it up!
A note from Body Shop:
All discounts will be taken at time of processing and will be reflected on your Final Credit Card Receipt that will arrive with your package.