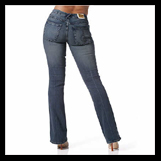 This is a new promo from Bluenotes Canada. For the next week, they will be offering a 25% discount on anything you purchase from their online store…
Where:BlueNotes.com
Valid: From 23rd Sept, for 1 week only
Discounts: 25% off everything
You don't need a coupon code for this, just add items to your cart and you will see the final checkout at the discounted price.
Here's what I recommend: go to your nearest store, try on some things, make a note of the items and sizes. Go back online and buy them for the 25% discount! This should more than take care of the shipping charge too – just make sure you work that out before you finalize your purchase.
Canadian Shipping starts at $8, and upwards from that, depending on what you buy.
These guys have some gorgeous jeans, I could spend loads of money at Blue Notes!!
- Anna