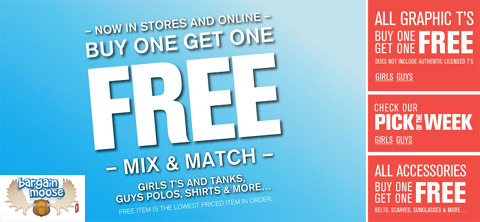 Bluenotes Canada is offering buy 1 get 1 free on loads of items, both online and in-store.
The deal applies to girls Ts, tanks and accessories and to guy polos, shirts and more.
How about some new fashion sunglasses for the summer? I like these Metal Aviator Sunglassesfor only $10.50. Or if you want to be a big cutie, perhaps the Plastic Heart Sunglassesfor the same price. As all the girls graphic tees are also buy 1 get 1 free, I'd like to go for the Milk And Cookies Soulmate Tee for $10 and get the What Up Sucka?! Teefor free!
Remember, all those items I mentioned in the last paragraph should be on the BOGO deal.