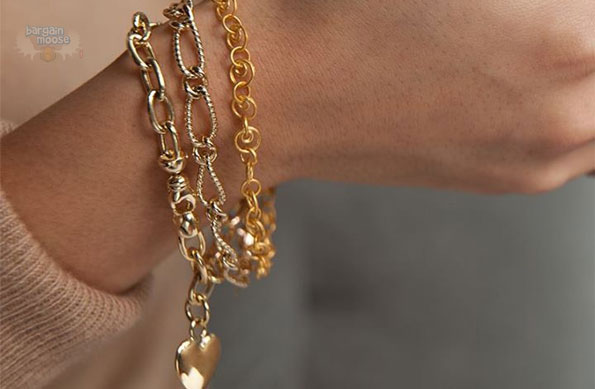 Dazzle your wrist with some charms! Blue Nile has a wonderful promotion on right now but you need to hurry because it expires at the end of the day. When adding more than $150 worth of regularly-priced charms and charm bracelets to your basket, you can enter the promo code below to get a $65 discount!
Click here to shop for charms @ BlueNile.com now
Coupon Code: CHARMS2015
Discount: $65 off charm orders $150+
Expiry: 31st May 2015
The cheapest regularly-priced charms are $43.40 each and there designs like the: open heart key charm, the #1 ribbon charm, the heart shaped love charm, the tropical palm tree etc. There are tons more charms though for just about any occasion, whether to commemorate a new baby with the sapphire baby shoe charm for $54.25 or even the passport charm for $65.10 for anyone who travels a lot.
The cheapest charm bracelet is the one in sterling silver for $80 and what's great is that you are prompted to choose a size from 6.5" all the way to 8.5". In fact, it has an overwhelming number of 459 reviews with a total rating of 4.5/5 stars! Here's one such review:
I love the quality and sturdiness of the bracelet, and especially like that I could choose a length that would work best for me. I ordered several charms that portray my personal "likes" and interests, and really enjoy wearing the bracelet!
That review encompasses the true essence behind the purpose of a charm bracelet in general. Whether you're choosing charms for yourself or for a loved one, it's all about personalizing the bracelet for the individual as it's very hard for two people to have the same exact charms on their bracelets -- unless that was the intention of course!
So, Mother's Day may be over, but a charm bracelet could also be a lovely gift idea for a birthday or any special occasion in general!
Free FedEx shipping is available on orders over $200 only. If your order doesn't meet that threshold, then keep in mind that a $25 Fed Ed international priority charge will apply, along with appropriate duty fees. What's great though is that the free shipping is applied pre-coupon code. This means that even if your order is over $200 but then drops down to below that price point with the Blue Nile promo code, then you will still be eligible for free shipping.