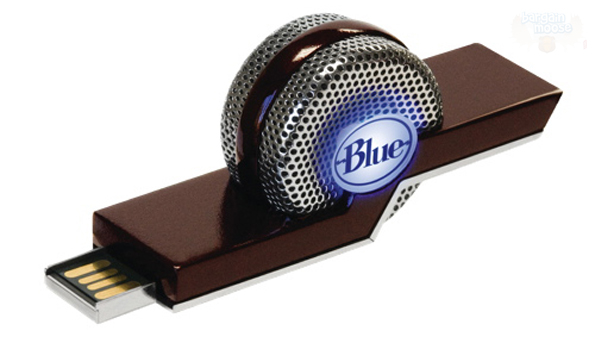 If anyone out there is on the hunt for a small portable microphone to use with your computer or laptop, check out the deal on this Blue Microphones Tiki Portable USB Microphone which is on offer from both Best Buy Canada and Futureshop. Originally priced at $59.99, you can grab it right now for half price, it's down to only $29.99 with free shipping too!
The Blue Microphones Tiki is a portable USB microphone… which might be hard to tell from the image above. It looks more like some sort of fancy whistle! Anyway, the Tiki appears to be quite a smart advice, mimicking the intelligence of human hearing. One point in the description of this microphone particularly appealed to me:
…it can bring your voice to the forefront and minimizes competing background noise like typing.
That's an excellent idea. When I am on Skype calls for work, I frequently hear people typing quite loudly on the other end. I wonder how loud my own typing must be.
There are only a few reviews on site, but they are positive. For example, B from Edmonton states:
AMAZING LITTLE THING!
Short and sweet, eh?
Well, if you just want a basic and budget-friendly microphone for some basic chatting or sound recording, then this could be ideal.
Price Comparison
The Blue Microphones Tiki Portable USB Microphone is on sale at many Canadian online retailers, so it's easy to run a price comparison on this item. In order from lowest to highest: $60 @ Londondugs, Memoryexpress, Apple Store, $66 @ ComputerValley, PC-Canada, $70 @ Amazon, $72 @ NCIX.
You can clearly see that it's a very hot price from the sister sites of Futureshop and Best Buy.
(Expiry: 30th October 2014)