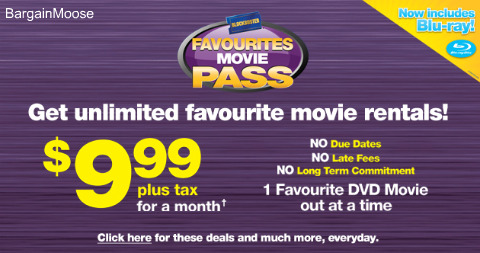 I dont know much about this deal but it seems like a decent price if you rent several movies a month. Blockbuster is ovvering a Favourites Movies Pass for only $9.99 a month plus tax. Thanks to Mooser Daniel for sending us this deal!
The Favourites Movie Pass offers:
No due dates
No late fees
Blu rays included (currently)
No long term commitment
I've never actually rented a DVD before (I know that sounds weird but I am not really a movie person... if I want to see a movie I will either see it in theatres or buy the DVD) so I'm not sure how it works but I am sure your local Blockbuster can fill you in.
You can check out the promotions link here to see it and other details.
Fine print (for further details):
*The BLOCKBUSTER Favourites® Movie Pass ("Pass") is good for unlimited Favourites movie rentals, including for a limited time Blu-ray format, for 30 days, one Favourites movie rental out at a time. Any day(s) skipped cannot be later redeemed and shall be forfeited. Pass may be used only on one membership account and only at the participating BLOCKBUSTER store where it was purchased. Pass rentals must be returned before the Pass expires or charges applicable to non-Pass rentals will begin accruing. Pass rentals do not count towards BLOCKBUSTER Rewards® benefits. Customer responsible for applicable taxes. Not valid in combination with any other offers or discounts. Limit one Pass per membership account at any one time. Membership rules apply. See store employee for complete terms and conditions.