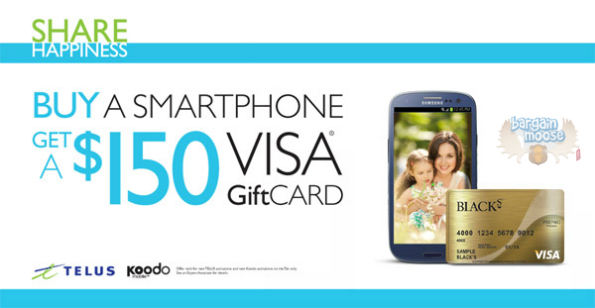 Black's Canada is handing out free money for activating the new smartphone you were already going to get! What's not to love?
All you have to do to get the $150 Visa gift card is activate a new Koodo plan or a two or three year Telus plan. If you happen to be going with Telus, Black's will also throw in their "Prints for Life" package for as long as you have the plan. That gives you 1000 free prints per year. This is an in-store only deal but you're gonna wanna go down to the store to look at the phones anyway.
I think Black's is doing something very cool. It would be very easy for a photography store to go under nowadays. When your business has traditionally been printing photos and framing, the new digital era is kinda scary. They've done all the standard stuff that you need to do in that business but they have gone further. Instead of just accepting digital images and printing them off, they've expanded into digital picture frames and mobile devices among others. The mobile phone thing, I think, was their best move. They have realized that the new camera of the masses is the smartphone. With a good camera on your phone, you don't really need to go get a camera anymore.
For more savings from Black's check out our Black's Coupon Code page.
(Expires: 28th April 2013)