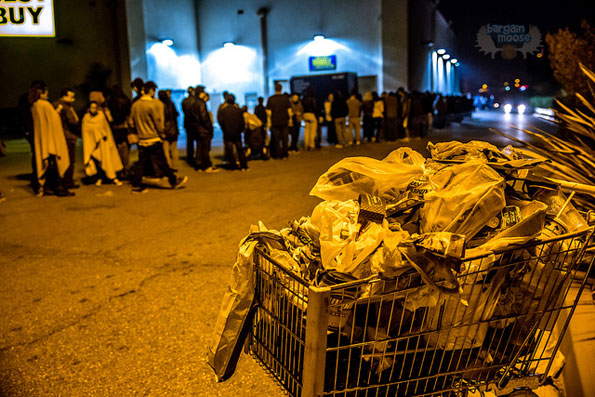 A little over a day is left until Best Buy's Black Friday deals go live and if like me, you have been staring at the giant countdown on their site in anticipation, then what you're about to read next is sure to jolt you with excitement. Best Buy's Black Friday flyer is available for previewing. Yes that's right, you can check out all of the deals right now, decide what you want ahead of time and then be ready once the deals officially go live exactly one minute before midnight on November 28th.
A little earlier, I mentioned that the PS4 GTA V + The Last of Us Remastered will be just $449.99 at Future Shop, but if you prefer shopping at Best Buy, then rest assured that it will be the same price there as well. Below is a list of some of the other hot Best Buy Black Friday deals:
Looking to get a Mac? The Apple Macbook Pro 13.3" laptop with retina display will be $150 off at $1,249.99 instead of its usual price of $1,399.99. It features an Intel Core i5 2.6GHZ, 8GB of ram and 128GB flash storage. Speaking of tech deals, the Seagate backup plus 5TB external hard drive will be as much as $100 off and can be yours for just $159.99 instead of $259.99! That's pretty awesome considering it's still regularly priced at Amazon.ca.
Select box sets will also be up to $50 off. Starting from $19.99, you will be able to save on Fringe, Friends, Flight of the Conchords and others with a total of 25 titles.
With all of these awesome deals, always remember to price compare. Sometimes a deal may seem like a good deal but then be relatively the same price everywhere else.
Shipping is free on orders over $25.
(Image Credit: Mahat Tattva Dasa)
[gallery link="file" columns="4" ids="197348,197349,197350,197351,197352,197353,197354,197355,197356,197357,197358,197359,197360,197361,197362,197363,197364,197365,197366,197367,197368,197369,197370,197371,197372,197373,197374,197375,197376,197378,197379,197380,197381,197382,197383,197384,197385,197386,197387,197388"]
(Expiry: 30th November 2014)