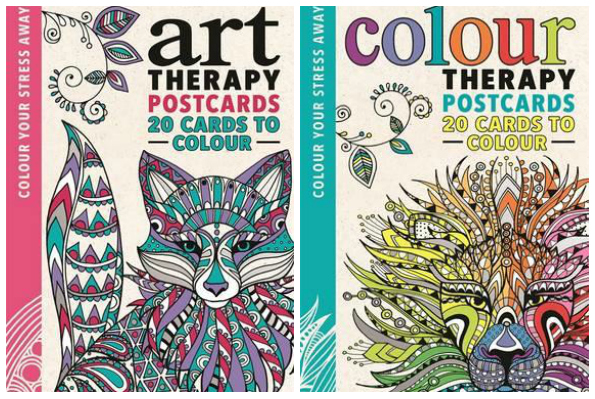 Book Depository is running their Black Friday deals all week. While browsing their sale, I found Art Therapy Postcards (20) and Colour Therapy Postcards (20) on sale from $16.22 down to $9.12 with free shipping. With adult colouring books being so popular these days, I thought that adult colouring postcards might be a hit too. Colour in each postcard and then send it out to a loved one, family member, or friend.
Pick up one set of postcards or pick up both sets as each booklet has 20 postcards with therapeutic pictures to colour. Once done colouring (or before), you can pull the postcards out of the book. Each has a space on the back for a message, address, and stamp. These are fully functioning post cards.
These are part of the 'adult colouring book' section so the difficulty of the pieces is akin to a usual adult colouring book. I have been looking at buying the actual art books for these as they are on Amazon, but i like the idea of post cards better. These post cards are NOT on Amazon and they cannot be found elsewhere in Canada either. However, that did not deter me from making sure these were a great deal.
Essentially, I compared with Amazon.co.uk where they cost £7.99 = $16 CAN approximately. I also found them at Booktopia in Australia where they are on sale for $14.95 (the Aussie dollar is about on par with ours). I then looked at postcard collections at Amazon.ca from different companies. The Enchanted Forest Postcards: 20 Postcards set costs $14.95 at Amazon Canada. Given this comparison, I think these postcard sets at book Depository are a very good price!
I like these postcards over a standard art book because they can be shared. If you colour to relax, then share your art with friends and family. Rather than just keeping your colouring in a book that no one sees, you can use your art pieces to stay in contact with loved ones. Christmas time is a great time to renew contact with those you love.
If you are not into colouring but you know someone who is, then pick this up as a sweet Christmas present for them.
(Expiry: Unknown)