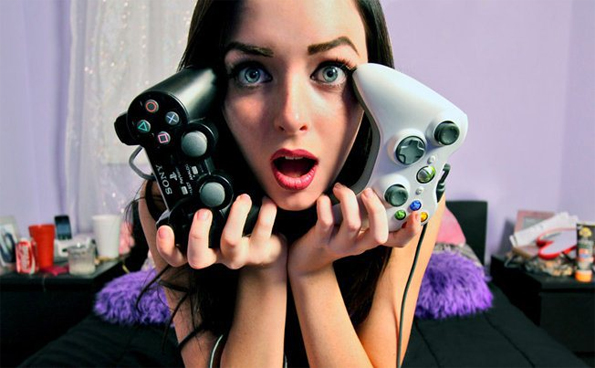 From all the Black Friday flyers and deals at the various Canadian stores across the internet, I've noticed that there are quite a few sweet deals on consoles and gaming bundles with the PS4 and Xbox One, with some top tier gaming titles too. If you were considering buying one for Christmas, here's a breakdown of a few of the best deals for your buck.
ONLINE: Xbox One console & Free Game - $349.99
If you just want the basic console, no bells and whistles, then consider this deal at The Microsoft Store. You can buy the Xbox One console on its own for only $349.99 with free shipping. PLUS you can then choose a free game as well, with choices such as Titanfall and Forza 5.
ONLINE: Xbox One 500GB Assassin's Creed Unity Bundle with Kinect- $449.99
This is a super deal from Best Buy Canada! For $450, you're getting a 500GB Xbox One console, Assassin's Creed Unity and Assassin's Creed IV: Black Flag, plus your choice of one more game up to a value of $69.99. Just add that game to your cart and it will be automatically discounted.
ONLINE: PS4 500GB GTA V & The Last Of Us Remastered Bundle - $449.99
You can pick this one up from either Walmart or FutureShop, whoever you prefer. They've matched each other's prices on this deal. In this bundle, you will get a 500GB PS4, Grand Theft Auto V, and The Last of Us Remastered, all for $449.99 and free shipping.
ONLINE: PS4 500GB GTA:V HARDWARE BUNDLE - $449.99
Here's a great bargain from The Source. For only $449.99 with free shipping, you will get the 500GB PS4 console, The Last of Us Remastered, GTA V, a DUALSHOCK 4 wireless controller, a wired headset, an HDMI cable, a power cable and USB charging cable.
ONLINE: PS4 The Last of Us Remastered Bundle & Free $75 account credit - $449.89
This deal from Amazon.ca may not last much longer, as it is one of the lightning Black Friday deals. For $449.89, you will get a 500GB PS4, The Last Of Us Remastered, and $75 credit to spend on Amazon.ca. If you prefer to have the account credit to spend on games of your choice rather than being stuck to a set game in one of the bundles above, then this would be a good choice.
Our old Bargainmoose author Shawn says:
Assassin's Creed 4 and 5 as well as GTAV and The Last of us are absolute top of the line.
He's right! Usually in gaming bundles, you get some crappy little titles… but these are excellent games in the bundles. Are you buying one?
(Expiry: various!)