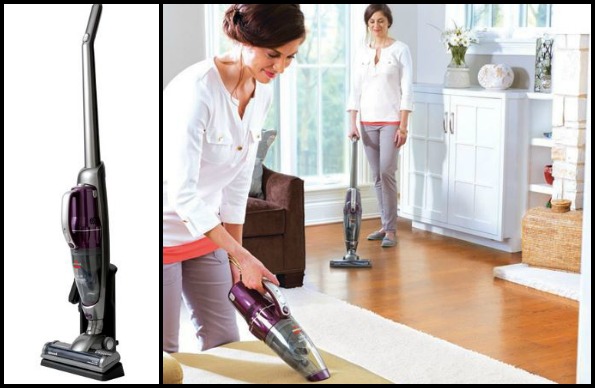 Today I did a deep cleaning of my home and decided that I need two new things in my life - a new vacuum, and someone to use it. I can probably only successfully achieve one of those things, so I am glad to have spotted this Bissell Hard Floor Expert 2-in-1 Cyclonic Cordless Stick Vac which is on sale at Bissell.com for just $79.99. That is 50% off the regular price! You can get free shipping on $100 too.
I don't often find myself shopping at specific websites like Bissell.com, but this deal drew me in. The Bissell Hard Floor Expert 2-in-1 Cyclonic Cordless Stick Vac is just what I have been needing, and now it can be mine for a very decent price. This is the best price you're going to find on this product. I mean, just take a look at what other Canadian retailers are selling this same item for:
$149.99 @ CanadianTire.ca
$129.99 @ Lowes.ca
$159.96 @ Walmart.ca
$169.99 @ Sears.ca
$144.99 @ Costco.ca
$149.99 @ HomeDepot.ca
So as you can see, no other Canadian retailer even comes close to the sale price on this 2-in-1 vacuum from Bissell.com. This vacuum sounds perfect for most lifestyles, too. The Bissell Hard Floor Expert 2 in 1 Cyclonic Vacuum is lightweight and loaded with multi-tasking tools to make your cleaning easier. With kids and pets, life throws so many unexpected messes at us. It is important to have a handy sidekick like this vacuum, since we know in most cases our husbands won't be cleaning it up! This vacuum is cordless, and can run for up to 21 minutes without being charges. That is longer than my current vacuum can go. Nothing is more frustrated than getting half way through vacuuming and needing to charge your vacuum, right?
While you do need to spend $100 to get free shipping, there are other things you can snag at Bissell.com that you will need for your new vacuum. That is going to be  your best bet, otherwise shipping is $11.95. Even with the shipping cost though, this is still the lowest price around for this fabulous vacuum.
(Expiry: Unknown)