Birkenstocks are one of my favourite shoes to wear during the summer. They are comfortable, trendy, but a little out of my price-range, which is why we made this helpful list of where to buy Birkenstocks in Canada! Check out this list and you'll never miss out on a sale again.
Any time there is a price-drop of a major sale, we will update this list so you'll get first dibs on the sale.
The Flash Sale at The Bay is now over, but check this page often, in case it pops up again!
Where to buy Birkenstocks:
Frequently Asked Questions:
How often are Birkenstock Canada sales?
More often than you think! Check back here and we will update the latest Birkenstock sale.
Do they make Vegan Birkenstocks?
Some styles are vegan! The signature one and two-strap Birkenstocks have straps that are made of real leather and include a suede lining, with the exception of the Arizona Vegan and the Gizeh Vegan. Easy choices are the iconic one-strap in red, navy, black, and white are totally vegan, as are the classic clog (made of polyeurethane) and the full-backed clog.
Where do I get Birkenstock insoles in Canada?
That's easy! Most Birkenstock retailers carry Birkenstock insoles, they'll usually cost over $40 though!
Is there a Birkenstock size chart?
You got it! We made one here!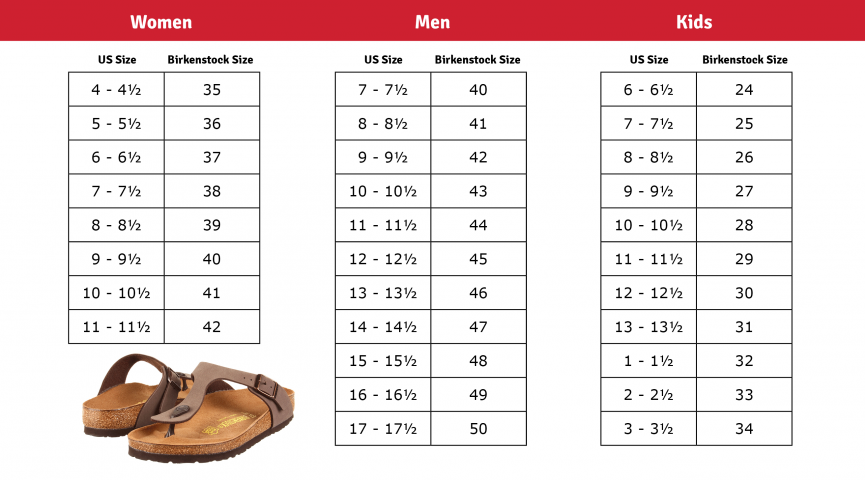 Do they make Kids Birkenstocks?
Absolutely! You can often find baby birkenstocks on sale too!!