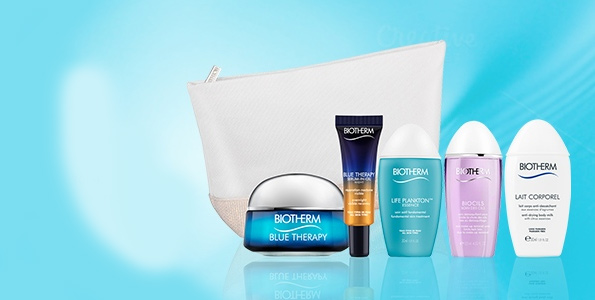 Any Biotherm fans on here? If so, now is an ideal time to buy. If you spend $30 or more on Biotherm products at Hudson's Bay online, you will get a FREE six piece gift set! In addition to that, ANY beauty order will also get the option to choose 3 free samples when checking out!
The actual price of Biotherm items to buy at The Bay starts at $19, and upwards from that. Simply add $30 worth of items to your shopping cart, and they will ship out the free gift with your purchase. I don't see it in the shopping cart, but it's shown on the above landing page and you can see what you get.
And for the 3 free samples, you will get a popup in your shopping cart enabling you to choose your three freebies.
I've looked at the list of items which come with the free six piece Biotherm gift set, and here is the value of the freebies based on the cost price of the items online at Biotherm.ca and Amazon.ca:
Life Plankton Essence 30ml - $16.08
Biocils Anti-chute 30ml - $7.44
Blue Therapy day cream 15ml - $23.40
Blue Therapy serum-in-oil 10ml - $23
Lait Corporel 30ml - $2.18
Cosmetic bag (unknown value)
I've worked out that the above gift has a value of at least $72.10, so the cosmetic bag is a couple of dollars of a difference – The Bay state that the total value is $74. As you can see, they're good sizes items and worth quite a bit!
As for shipping, beauty orders ship for free as long as they are $49 or more. I highly recommend that you top your cart up to that level to get free shipping to your home. Perhaps throw in a little gift set such as these for emergency Christmas gifts.
(Expires: unknown)