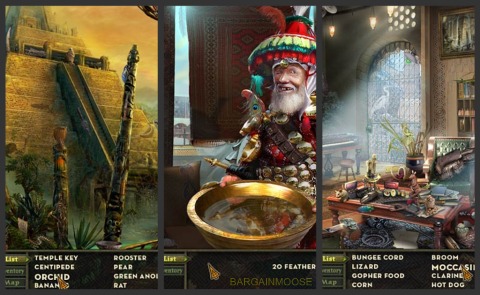 This is a great game you can get from Big Fish Games for only $1.99 with coupon, 80% off it's original price of $9.99! It is available for MAC and PC.
Remember to use the coupon:
Discount: 80% off
Coupon Code: nextjump80
Expires: ?
This coupon also works for the game's strategy guide (available for PC) discounting it to $1.99 as well, if you want to improve your game. You can check it out here.
More about this game:
Big Fish Games Studios takes you on an Adventure into the stunning world of the Amazon with the Hidden Expedition team in search of a missing professor. A tattered map referencing the legendary Beetle Temple is your only clue as you begin your adventure deep into the Amazon Rainforest. Explore cities, temples, and ruins while unlocking the secrets of an ancient yet advanced civilization. This adventure is the largest yet for the Hidden Expedition team, and the discovery of the Beetle Temple is just the beginning.