BestBuy.ca: Online Only Thanksgiving Sale! Laptops and TVs and Turkeys, oh my!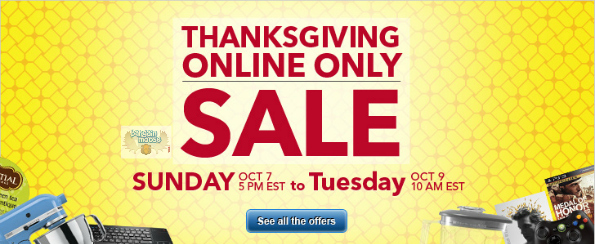 Not much open this Monday. Thankfully the Internet doesn't have labour laws mandating it be closed, so we still get to partake in some awesome deals! Thanks Best Buy Canada!
There are a bunch of things from a bunch of categories here. These are a few of the products:
Besides the individual products they feature here, there are some percentage off deals that cover whole ranges of items. For example10% off all CORSAIR memory or 15% off tablet accessories. All the details are at the top of the page.
This is a great opportunity for us and for Best Buy. Thanksgiving is a time when people relax. When people relax they have spare time to do things like decide they hate their TV or brick their smart phones in a foolish attempt to root and ROM them. This is when having something to draw people to the online portion of your store (like a sale) is a very smart idea. I'm sure there is someone reading this right now who just had their father get mad at uncle Victor for never returning his back scratcher in 1972  ending in a turkey being launched directly into their laptop and is now looking for a new one.
One other thing to note is that some of these sales end a day early or a day late. Keep that in mind as you shop. Oh, and explore all the categories down the left of the page. There is some good stuff there.
(Epires: 9th October 2012)