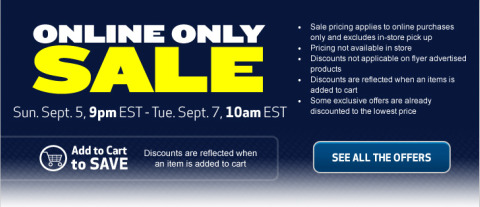 Best Buy is having a Labour Day sale - online only - for exactly 37 hours.
This sale starts Sunday, September 5 at 9 pm EST.  It ends, Tuesday, September 7 at 10 am EST.
There are savings to be had! What they are exactly, we don't know... but be on at 9 pm this Sunday to see!
Here are a few to preview:
Save up to $800 on Big Screen TVs
20% off Select Home Theatre Speakers
20% off Select TV Stands and Mounts
20% off Select Computer Accessories
10-25% off All Memory Cards
... and more!
See banner and link for more details!