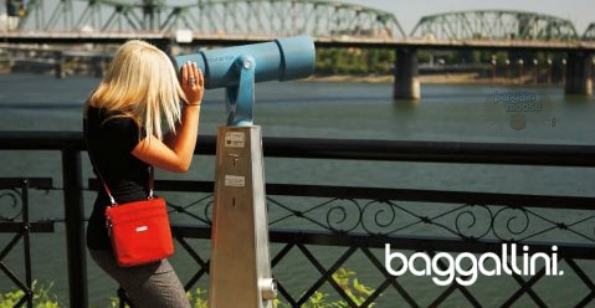 Enjoy up to 78% off Baggallini hand bags, cross bodies, and more at Best Buy Canada. The savings are steeps and bags are affordable with handbags starting at $14.97. On top of this clearance, Best Buy Canada is offering an extra 25% off clearance luggage and bags. This discount is applied in-cart. After this discount, handbags start at just $11.24.
Deep discounts make my little heart sing and this sale certainly fits the bill. There is a bag for everyone in the sale at a price that everyone can afford.
For those with tight budgets, I recommend the Baggallini Geneva Cross-Body Bag (GENV609-ET) - Brown/Red or the Baggallini Geneva Cross-Body Bag (GENV609-DOS) - Brown/Orange. Both these lightweight, water resistant quilted bags have nylon sealed zippers and a locking flap for security and durability. Originally $67.97 each, these two bags are on sale for $14.97. Once you add the bags to your cart, they come down to $11.24 each!
Next, I cannot resist the Baggallini Sicily Cross-Body Bag in many different colour options. However, only three of the colours are this steeply discounted: they are reduced from $75.97 down to $19.97. After the extra discount in cart, each bag comes down to $14.98.
This is a great basic purse for just your essentials. The purses are made from lightweight, water-resistant nylon to keep the contents dry at all times. There is a removable and adjustable cross-body strap to keep your hands free when it is on or turn your bag into a handbag when you remove the strap. Inside, the small purse resembles an oversize wallet with interior credit card slots, lipstick holder, cellphone pocket, and more.
There are some other extraordinarily fun bags to purchase. For those who are tired of plain beige, white, black, or borne purses; purchase the Baggallini Big Zipper Cross-Body Bag (LZP474S-CSBE) - Blue/White. The bag has a lovely blue and white floral design and comes with all the pockets you will ever need. There is one large main pocket and three additional zippered pockets on the front. There is also a zippered cellphone pocket as well as credit card slots, a key leash, and a removable (matching) coin purse. This purse technically has it all, including a great price. Originally $80.97, the bag is now on sale for $24.97. In your cart, this bag comes down to $18.73.
There are plenty more bags in this sale, these are just a few of the highlights. Receive free shipping on orders of $25 or more.
(Expiry: 30th July 2015)