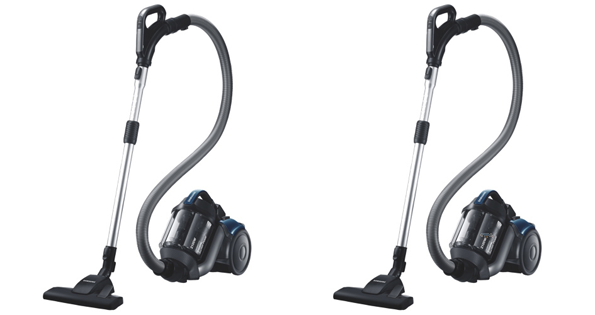 Is your current vacuum just not as powerful as it used to be? Perhaps it's time to get a new one - when vacuuming starts to become too tedious (especially when you're using a machine that requires you to go over the same spots repeatedly due to its age), then you should do yourself a favour and retire your machine. Thankfully, Best Buy is currently having a sale on their Samsung Canister Vacuum today! It normally retails for $299.99, but you can now buy this canister vacuum for $199.99. You'll also qualify for free shipping - whoo!
This is a pretty nice deal - especially since you're saving 33% on the regular price! This Samsung Canister Vacuum (model VC12F50HNDU/AC) comes with a 3-in-1 accessory pack, and has some sweet features, like a remote control handle that makes it easy for you to turn this machine on and off, a svelte bagless design, and an advanced HEPA filtration system. It's also quite powerful, since it has Cyclone Force Multi Technology. You can read more about this bagless canister vacuum by clicking on the link above.
I currently use a Dyson bagless vacuum, and prior to that, I used bags. I can honestly say that you save so much by going bagless! Just think about all the dirt that needs to be removed when you're vacuuming your home - especially if you're vacuuming at least once a week, it won't take long for those bags to fill up!
If you wanted to buy this Samsung Canister Vacuum from Lowe's, it would cost you $299. I've included a brief review of this bagless vacuum from a satisfied Lowe's customer below:
This Samsung works great. Has 3 levels of suction and you can feel it pulling the carpet. The power button on the wand is a great feature. And very easy to empty the canister. Before purchasing this particular vacuum, I read online reviews and this model seemed to have the least negative reviews.
Happy hunting, Bargainmoosers!
(Expiry: 6th November 2014)