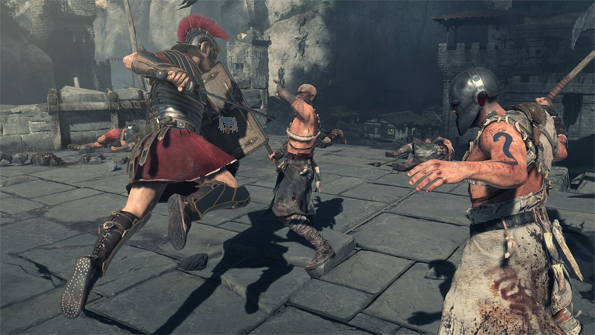 Oh hey there, my fellow deal hunters! Best Buy is currently having a sale on an intriguing Xbox One title today, and you'll be able to save $20 from the regular price of this video game. You can now get Ryse: Son Of Rome for the Xbox One for just $29.99 - the regular price of this game is $49.99. You'll also qualify for free shipping!
Ryse: Son Of Rome for the Xbox One is a game with an enticing theme. In this Xbox One game, you get to fight for the glory of the Roman Empire - just lead your army in battle and let the chaos ensue!
When I was a young lad, I remember watching plenty of movies that were about the Roman Empire, since my dad would always be watching them. There were many great classic movies that made me crave for a video game that would allow you to fight with or against the Romans - it just seemed like it would be a lot of fun!
Unfortunately, I didn't know too many games with that type of theme at the time (besides Warriors Of Rome for the Sega Genesis, but I didn't even know that existed until earlier this year). Alas, I was happy to play Trojan for the original Nintendo, since you battled some post-apocalyptic Romans near the end of the game (it had a Mad Max-like plot).
If you were to purchase Ryse: Son Of Rome at Buy Electronics Canada, it would cost you $59.99, and it's currently $49.99 at the Microsoft Store. I've included a snippet of a review of this game that's listed on the Metacritic website below:
I literally can't wait to get home everyday and play Ryse. I just can't get it off my mind. It has Unbelievanly addictive multiplayer, stunning graphics, and visuals. And dont even get me started on the campaign. It is the next thing since the last of us that actually touched my heart.
This deal expires tonight, so take advantage of this deal while you still can! I hope you're all enjoying your Thursday, Bargainmoosers!
(Expiry: 16th October 2014)