Best Buy Canada: Pay With Paypal & Get Up To $40 Back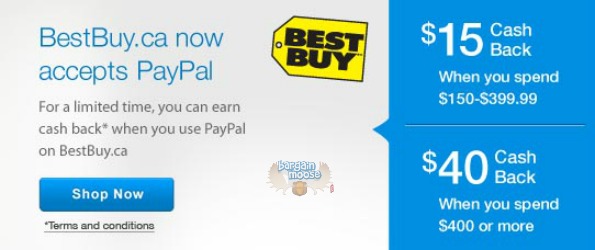 I recently blogged about how Future Shop now accepts PayPal as a payment for an online purchase. Best Buy is now doing the same and offering some similar rewards for doing so.
You'll get $15 in cash back on purchases from $150 - $399.99 and $40 in cash back on purchases over $400.
PayPal is so easy to use and completely free. Plus, by using PayPal, you save yourself the credit card bill at the end of the month, you pay cash for your online purchase, and you don't have to pay interest.
Best Buy has a number of great deals on right now, which you could look into, factoring in your PayPal savings.
(Expiry: Unknown)