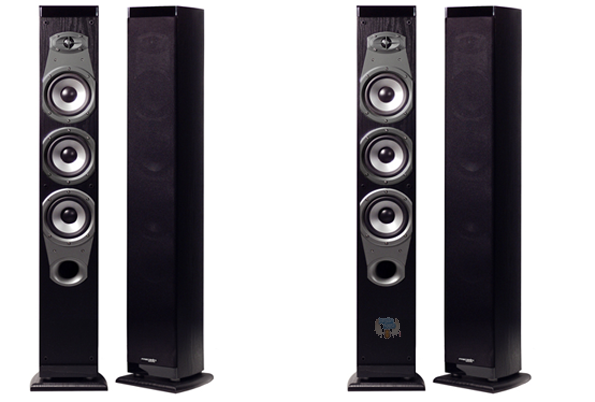 Hey there, Bargainmoosers! Today's deal at Best Buy is for a pair of Precision Acoustics 200-Watt Tower Speakers, which normally retail for $599.99. You can now pick up these high-powered speakers for $299.99 - that's 50% off the regular price! You'll also qualify for free shipping, which is a very nice bonus!
This pair of Precision Acoustics 200-Watt Tower Speakers can connect directly to a receiver, or your home theatre audio setup. Once you're pumping out crystal-clear tunes with these bad boys, you'll be incredibly pleased with your purchase! These tower speakers can handle up to 200 watts each, contain 5 inch mid-range speakers and 1" tweeters, and have a 92dB sensitivity.
Speakers like these Precision Acoustics 200-Watt Tower Speakers are perfect for parties and gatherings. When you have some friends over and a festive spirit is in the air, then you'll have no problem getting the party started with these high-powered speakers pumping out music! You'll notice the difference in quality when compared to the usual 5-Disc CD Player setups immediately - but that should come as no surprise... after all, these are $600 speakers! Thanks to today's deal, you can get them for half the price - $299.99.
To give you a general idea about how much 200-Watt tower speakers usually cost, a single Polk Audio tower speaker retails for $359.99 at Future Shop. However, these Precision Acoustics 200-Watt Tower Speakers come as a pair, and you're paying less than what it would cost for 1 tower speaker! I've included a brief review of these speakers from a satisfied Best Buy customer below:
These speakers sound phenomenal. I'm not an audiophile, so no technical analysis, but I do like the full range of crystal clear sound these produce when matched with my Sony STR-DG720. I would buy them again. Recommended.
If you're looking for a pair of reliable tower speakers that have plenty of power and have a sleek appearance, then you should really consider checking out this deal. I hope you all have a great day, my fellow Bargainmoosers!
(Expiry: 16th October 2014)