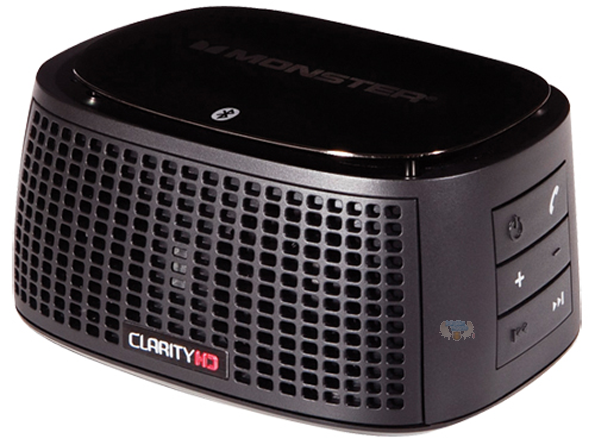 Hey there, Bargainmoosers! If you've been looking for a reliable yet powerful Bluetooth speaker, then this just might be the right deal for you. Today, Best Buy is offering customers the chance to save some money on their Monster ClarityHD Precision Micro Bluetooth Speaker - it normally sells for $79.99, but you can now purchase this product for just $39.99! You'll also get free shipping with your order.
This is a great deal. The Monster ClarityHD Precision Micro Bluetooth Speaker can stream music from your cell phone, iPod, or any Bluetooth-compatible device. It also has a built-in mic and a rechargeable lithium-ion battery, along with a 3.5mm jack and a carrying pouch. You can learn more about this Bluetooth speaker by clicking on the link above.
I think this is a very versatile product. It's from a recognizable brand that's known for their great audio and video products (Monster), and it's also compact enough for you to carry with you. Since it's portable, it can make it that much easier and convenient for you to bring this to a friend's place, or wherever you plan to go. It never hurts to have a sweet music source that's easy to bring with you!
If you went to Future Shop to purchase this Monster ClarityHD Precision Micro Bluetooth Speaker, it would have costed $99.99, and it's $79.99 on Amazon. I've included a brief review of this Monster ClarityHD Precision Micro Bluetooth Speaker from a satisfied Future Shop customer below:
Impressive sound and very easy to pair with my PC and cell phone. Makes a great external PC speaker and cellphone speaker phone. Also really like the fact that it's so compact.
Limited quantities are available, so if this deal intrigues you, act fast and check it out while it's still available. I hope you all enjoy the rest of your day, Bargainmoosers!
(Expiry: 23rd October 2014)