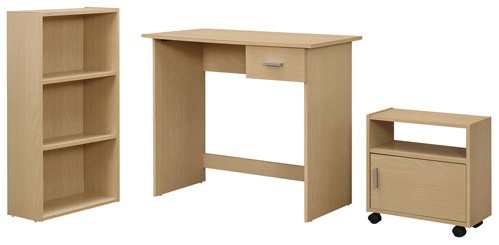 My New Years resolution is to keep my office more tidy and organized. I mean, sometimes I don't even know how I work in here! Part of getting more organized is having furniture that can accommodate my stuff. Which is why I think this Monarch 3 Piece Desk Set is my perfect solution, and hopefully yours too. This set was originally $299.99, but is now on sale for just $129.99 including shipping.
This Monarch Contemporary 3 Piece Desk Set includes the desk,bookcase and mobile storage cabinet. They come in a neutral Maple wood and would go with just about any decor. This furniture is especially great for small spaces. These pieces are made of particle board, but you really can't complain for the low price of $129.99.
Realistically, particle board is designed to make the natural strength characteristics of wood even stronger. Plus it is easy to wipe clean with just a damp cloth - so maybe particle board is the way to go? The writing desk has a storage drawer, the bookcase has two adjustable shelves and the multi-purpose storage cart has to shelving spaces and a cabinet. The average assembly time for two adults is about one hour, but that really isn't all that bad considering there are three separate pieces. Apparently this is a good set for a kid's bedroom as well, according to this review on BestBuy.ca:
This Malaysian made product was very good and the package included a desk, night stand, and a book case. Everything that was needed for furnishing a kid's bedroom. But the best part was the assembly instructions. It was clearly defined which made assembling all the parts a breeze.
This particular deal was advertised in the Best Buy Canada Boxing Day flyer, but I found that the price is actually already live. So you may want to snag it now before the Boxing Day rush causes it to sell out.
This item is only available online, but not to worry. BestBuy.ca is even throwing in free shipping on this set, even though the boxes will be quite large. These items will arrive as early as December 29th, which makes it perfect timing to start your New Years resolution.
(Expires: 24th December 2015)