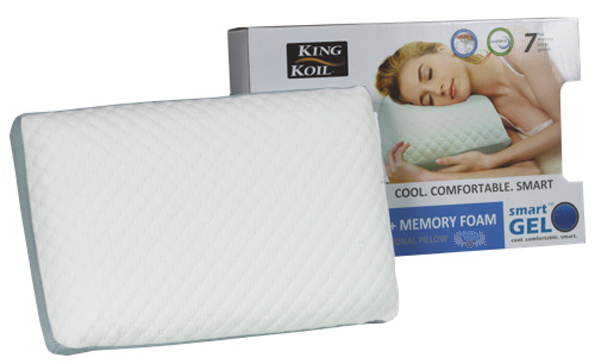 Today's Best Buy deal should make everyone crave some extra comfort in their bed! At this time, you can enjoy the benefits of some great savings by getting a King Koil Gel + Memory Foam Pillow for the low price of $35.99! It normally retails for $89.99, so this is quite the bargain. You'll also get free shipping, so that's another nice bonus!
This King Koil Gel + Memory Foam Pillow can help accommodate you while you're trying to get some rest in your bed. It contours to the shape of your head when you're resting on it, providing you with maximum comfort! You can learn more about this special pillow by clicking here.
I currently have a memory foam pillow, and I absolutely love it. It helps me get some sleep quickly and easily, and is super comfortable! It may be a bit hard when you first lay down on it, but it eventually softens up and helps you get the comfort that you need. It's also great because I simply use this pillow on its own - I was used to sleeping with two regular pillows before that to get the proper neck support that I needed.
If you were to purchase a similar King Koil Memory Foam Pillow at Staples, it would cost you $65.99. Listed below is an entertaining review of this King Koil Gel + Memory Foam Pillow from a satisfied Future Shop customer:
Fantastically supportive pillow is firm at first touch, then instantly shapes to whatever part of your body is on it. It quickly readjusts as you change position, as well. The only reason I didn't give it five stars is because my STUPID BlackBerry wouldn't let me, for some reason.
Limited quantities of this King Koil Gel + Memory Foam Pillow are available at this time, so take advantage of this deal while it's still available. Happy hunting, Bargainmoosers!
(Expiry: 23rd October)