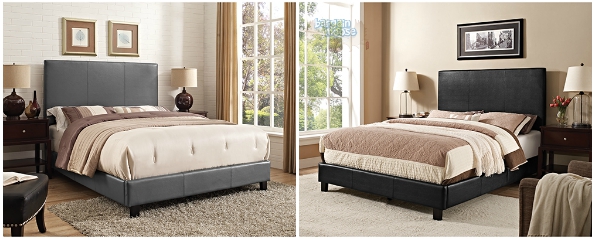 My lovely Moosers! We have a rare bedroom furniture deal, which I like a lot! The Jacky Thomas Contemporary Queen Platform Bed is on sale from $499.99 down to just $199.99. You save $300 and will receive free shipping on this platform bed delivered to your door. This is a great opportunity to spruce up the bedroom and elevate your bed.
Through the link above you will find five colour options for your new platform bed: Magnetite, Charcoal, Natural, Black, or White. Personally I like to channel the minimalistic look, thus I would purchase the white platform bed to channel a nice, quiet, zen-like space.
All the frames are queen bed size, which seems to be the most popular size of bed to own these days. I want to downgrade to a double bed in the future so I have more space in my bedroom, but all the best sales are for queen-size beds, bedding, sheets, and more.
This platform bed fits a queen mattress with euro slats. However, you can also put an additional box spring under your mattress to elevate your bed higher. Personally, I like a lower bed so I would toss the box spring.
This platform bed is made of solid pine and plywood base covered in a bonded polyurethane. Polyurethane is a faux leather material that is easy to wipe clean, durable, and very low maintenance. It looks like leather because of the patterned grain on the material, the slight glossy finish, and the thickness of the material.
The platform bed will require assembly when it arrives at your door. However, only basic tools are needed. You should have it set up within an hour or so depending on how your DIY skills have developed. If you are a master of the Ikea furniture, then this platform bed should be no problem. I can usually construct one of these things in about 45 minutes. I recommend removing your old bed from your bedroom first so it does not get over crowded in there. Then, assemble the platform bed in place.
Thankfully, you will receive free shipping of this platform bed to your home. Beyond saving $300 on the platform bed itself, the free shipping really makes this deal worthwhile.
(Expiry: 30th July 2015)