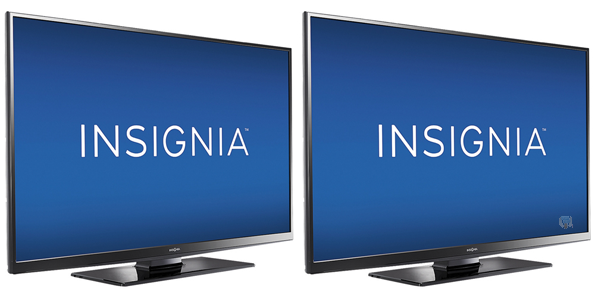 Best Buy is having a FLASH sale for one day only on their Insignia 64.5" 1080p 120Hz LED TV! It normally retails for $1199.99, and is now on sale for $999.99, but today's FLASH sale allows customers to save an extra $100! Now you can purchase this huge television for $899.99 - that's a great deal for a nearly-65-inch TV! You'll also have to pay $49.99 for a scheduled delivery, since this is one huge product.
This Insignia 64.5" 1080p 120Hz LED TV is huge! Not only will your movies, TV shows, and video games look amazing, but you'll also be the envy of all your friends with this 64.5" television! With this Insignia 64.5" 1080p 120Hz LED TV, you can enjoy watching your Blu-Ray movies in 1080p, and in 120Hz.
I personally like the Insignia television brand. I think it's high in quality and low in price, which is always a win with me. I currently have a 32" Insignia LCD TV that I purchased back in 2009 (it was $525 at the time, which was a very decent price for a 32" flatscreen TV), and it's still working well! It also has a sleek exterior, which makes this more than just a "generic TV brand".
If you wanted to purchase this Insignia 64.5" 1080p 120Hz LED TV from Future Shop today, it would cost you $1199.99. I've included a brief review of a similar 55" model of an Insignia LED TV from a satisfied Future Shop customer below:
I purchased a 32", 39" & 48" Insignia LED TVs and am very happy with all of them. The HD content shows look awesome. Connect a Sound Bar and enjoy even better sound. 
This may not be in stock for very long, so if you're looking for a decent deal on a 64.5" LED TV, then you should check out this deal! Happy hunting, Bargainmoosers!
(Expiry: 22nd October 2014)