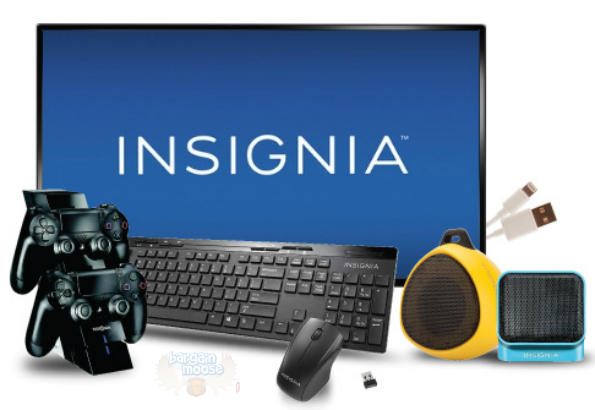 Best Buy Canada has a satisfactory deal on this Insignia 48"1080p 60Hz LED TV (NS-48D510NA15) TV right now. Originally $469.99 according to Best Buy, this television is now on sale for $379.99.
Under $400 is a phenomenal price for a 48" flat screen television with full high definition and Best Buy beats that price marker by $20. For $379.99, you are getting a 48" screen, full HD 1080p resolution, and a 1920 x 1080 native resolution.
Your TV comes with all the necessary ports including: two HDMI ports, one component video, one A/V (composite), one coaxial cable (RF), one optical digital audio, one headphone jack, one PC audio, and one USB media port as well. While I prefer three HDMI ports (one for the PVR, one for the PS3, and one for my laptop), I actually rarely have more than two items connected at once since I no longer own a PVR. However, I assume most of you do. Two HDMI ports will allow you to have your gaming console and your PVR connected at the same time at least.
On the price-comparing front, I cannot find this TV many places at all. I did find it at Future Shop (Best Buy's sister store) on sale for $399.98, which is $20 more expensive. If you want to make them price match, then be my guest. I also checked previous deals we have written up on the Bargainmoose. I blogged about this television once before, back in March, when it was on sale for $399.99. This current price of $379.99 is the cheapest I have seen this television.
This television has very good reviews on Best Buy's website. Out of nine ratings, seven of those are a solid five stars. This reviewer compared it to others TVs they have had:
Tried a RCA 50 in LED tv but the picture quality and colors were poor. This tv has a very good picture with good colors and also has good sound. It was sitting next to a LG and the pictures looked equal. I also have a 39 in insignia which is an excellent tv for the price.
For the price and the size, you really cannot go wrong. You are getting excellent value for your money.
Even though this TV is HUGE, you will still qualify for scheduled delivery for free in most urban areas. I am not sure about rural Canada.
(Expiry: 11th November 2014)