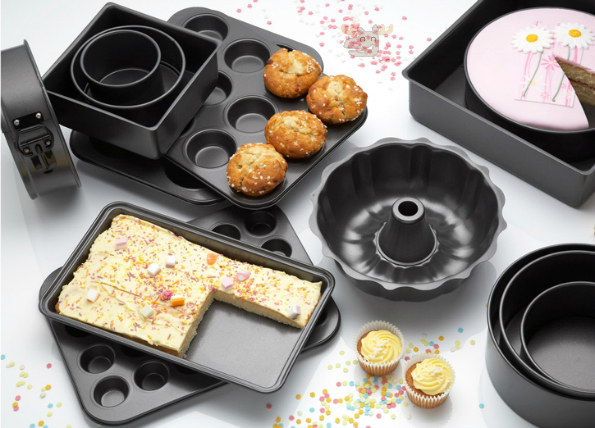 The holidays are coming and bakeware suddenly becomes more prevalent. Best Buy Canada has a buy more save more event on right now where you can save between 30% to 50% on Wilton bakeware and accessories depending on how many you buy.
Choose from over 140 items in this sale. The discount tier is as follows:
30% off one (1) item
40% off two (2) items
50% off three (3) or more items
With Wilton baking supplies starting at just $4.99 each, this sale is great for those trying to save money and yet replace or acquire some needed supplies. I decided to make up a cart full of baking accessories that would just qualify for free shipping. This was so much fun.
I do not own any cookie cutters so I really wanted to buy a couple sets. This Wilton Festive Cookie Cutters (2308-1104) - 3 Packwould be awesome for Christmas and only retails for $4.99. For Halloween - one of my favourite holidays - these Wilton Halloween Cookie Cutters (2311-257) - 4 Pack are only $5.99 and include a cat, bat, ghost, and pumpkin.
Next, I thought a cupcake decorating kit might be a lot of fun. There are two different Christmas themed decorating kits: the Wilton Cupcake Decorating Kit (reindeer) and the Wilton Cupcake Decorating Kit (Santa). I stuck the reindeer version in my cart.
Next, I saw this awesome Wilton T-Shirt Shaped Cake Pan that would make the coolest cake mold ever. You could dress it up with icing with your child's favourite team's jersey or even their own jersey if they play sports. This cake pan retails for $9.99.
Next, I wanted something a bit more Halloween oriented. This Wilton Jack-o-Lantern Fluted Bakeware Pan costs just $11.99 and it will give your cake the shape of a pumpkin. Lastly, I added on this Wilton Excelle Elite 13 x 9 Cake Pan (2105-411) that retails for $13.99. It is a standard size cake pan that I use often.
Let me review that all with you. I stuck three cake pans, one cupcake decorating set, and two sets of cookie cutters (total of 7 cutters) into my cart and the grand total is only $26.94 before tax. You will want to hit that free shipping minimum because shipping really adds up if you do not.
(Expiry: Unknown)