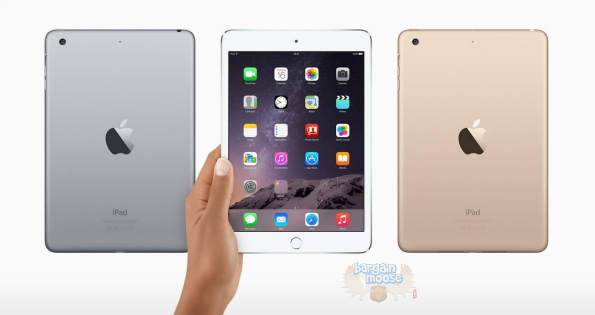 Best Buy Canada has discounted the Apple iPad Mini 3 from $439.99 down to $339.99. Supplies are extremely limited (gold and white already OOS), so I would get in on this offer ASAP.
Just because the white and the gold are out of stock online does not mean you cannot buy them. Both are currently available for reserve in store. This, you can reserve online and merely pick it up at your local Best Buy Canada store for the same price. While I liked to the black above, click these links to reserve your space grey iPad Mini 3 or gold iPad Mini 3.
I price compare all electronics, so here is a composite list of what the 16GB Wi-Fi Apple iPad Mini 3 is retailing for elsewhere. The iPad Mini 3 is also on sale at Staples Canada, but costs $379. Apple Canada has the iPad Mini 3 starting at $439, while Walmart Canada drops that price by $1 down to $438. Chapters Canada has the iPad Mini 3 for $439 and they are not eligible for the Visa Checkout discount either. Even compared to Staples, you are saving an extra $40 or so when you purchase the device at Best Buy Canada.
This is the basic model mini 3. It has 16GB of space, Wi-fi only (no cellular), and a Touch ID fingerprint reader (cool!). The Touch ID fingerprint reader lets you unlock your iPad and make purchased on the device by using your fingerprint as the primary identifier. The mini 3 would be my choice for a new iPad because it is just 7.5mm thin and weighs less than 1 pound. It is light and easy to hold for a long duration.
Other features include:
7.9" (diagonal) LED backlit Multi-Touch display
2048 x 1536 native resolution at 326 pixels per inch (ppi)
Fingerprint-resistant oleophobic coating
Dual-Core Apple A7 CPU with M7 Chip
Bluetooth 4.0 technology
Front and rear cameras
Your device will come preloaded with the latest iOS 8 operating system. It is not often that there are substantial discounts on Apple products, so I am quite delighted to see this sale price. These are selling out very quickly!! Please get one ASAP! If they completely sell out online, then reserve one in store for the same sale price.
Receive free shipping on orders of $25 or more.
(Expiry: 21st May 2015)